The Second Annual Lehigh Valley Business Reader Rankings just awarded Boyle Construction recognition as 2018 winner of "Best General Contractor".
According to the publisher, these rankings are "a celebration of what the readers of Lehigh Valley Business think about the companies they are doing business with."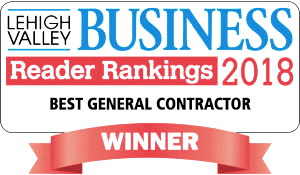 Boyle Construction is pleased and honored. We want to thank everyone that voted for us! We strive for every project to be 'built better' by our team of experts.
These rankings are the judgement of peers, clients, colleagues, and customers based on working relationships and reputation in the Greater Lehigh Valley. The top vote-getters in a broad survey of business categories were recognized in the special supplement to the July 23rd issue of Lehigh Valley Business. For the full list of reader rankings, click here.
Join the most talented team in construction.
We're always on the look out for exceptional individuals to help elevate Boyle Construction. Is it you?
Careers