Building excellence since 1977.
We're one of Pennsylvania's most experienced construction managers and general contractors. Our work takes us around Eastern PA and Western NJ. Our proven Project and Construction Management (PCM) methods contribute to finishing projects ahead of schedule, under budget and safely. That's one reason why 85% of our annual business comes from repeat customers. After all, when you have 80 plus construction professionals working to exacting standards, your project will certainly be Built Better.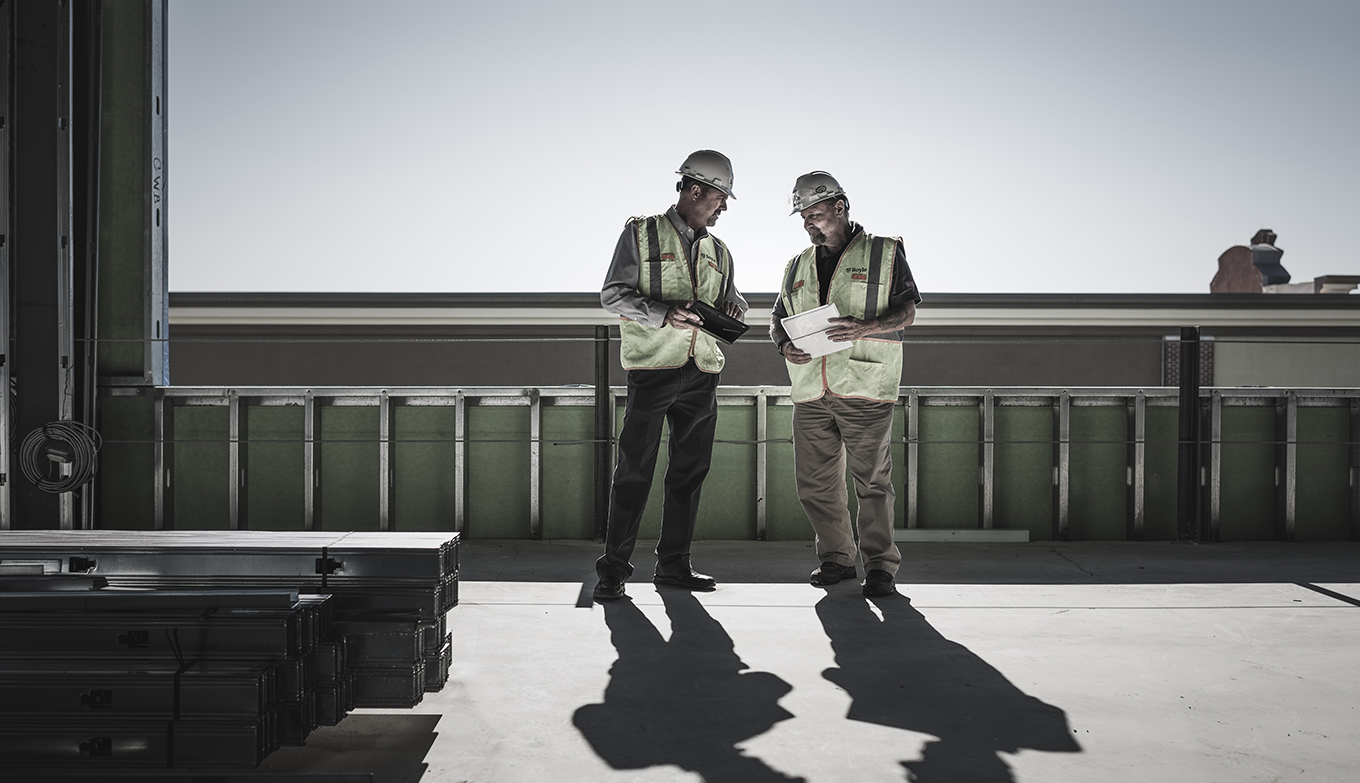 Why choose us?
Our long, successful track record comes from working in harmony and collaborating closely with the project team to manage time and costs.
Our qualified team is experienced in all building phases, from planning to design to construction using proven PCM methods ensuring success for each and every project.
Meet Our Team
Sean A. Boyle
Ken Duerholz, RA, LEED AP
Ed Flowerdew
Tony M. Ganguzza, PE
Dave Green
Karen Cooney Duerholz
Dave Kepler
Todd Fairfield
Shane Follweiler
Ryan Nissen
Bret Buchman
Brian Esteves
Laura Lueders
Phillip Evans
Len Hoben
Andrew Coombs
Christian Donovan
Erin Liston
Dylan Panebianco, MBA
Joe Dugan
Tanner Haycock
Laura Lansberry
Rob Lenosky
Mike Staples
Mike Tyburski
Alex Porter
Chad Wasilkowski
Tyler Eckhart
Chris Rex
Joe Pinto
Nathan Strauss
Michael Wesnak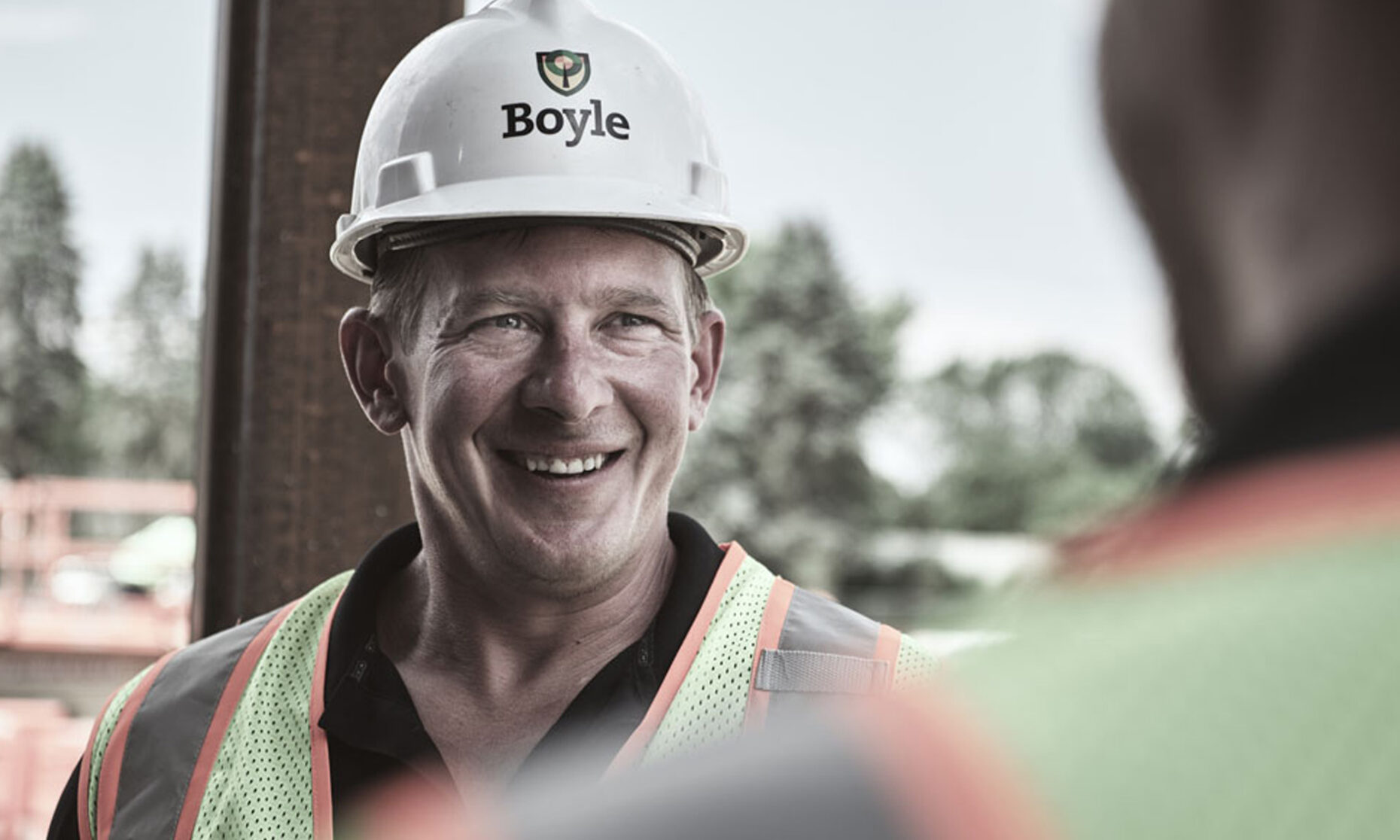 Bill Andrews, Sr. Superintendent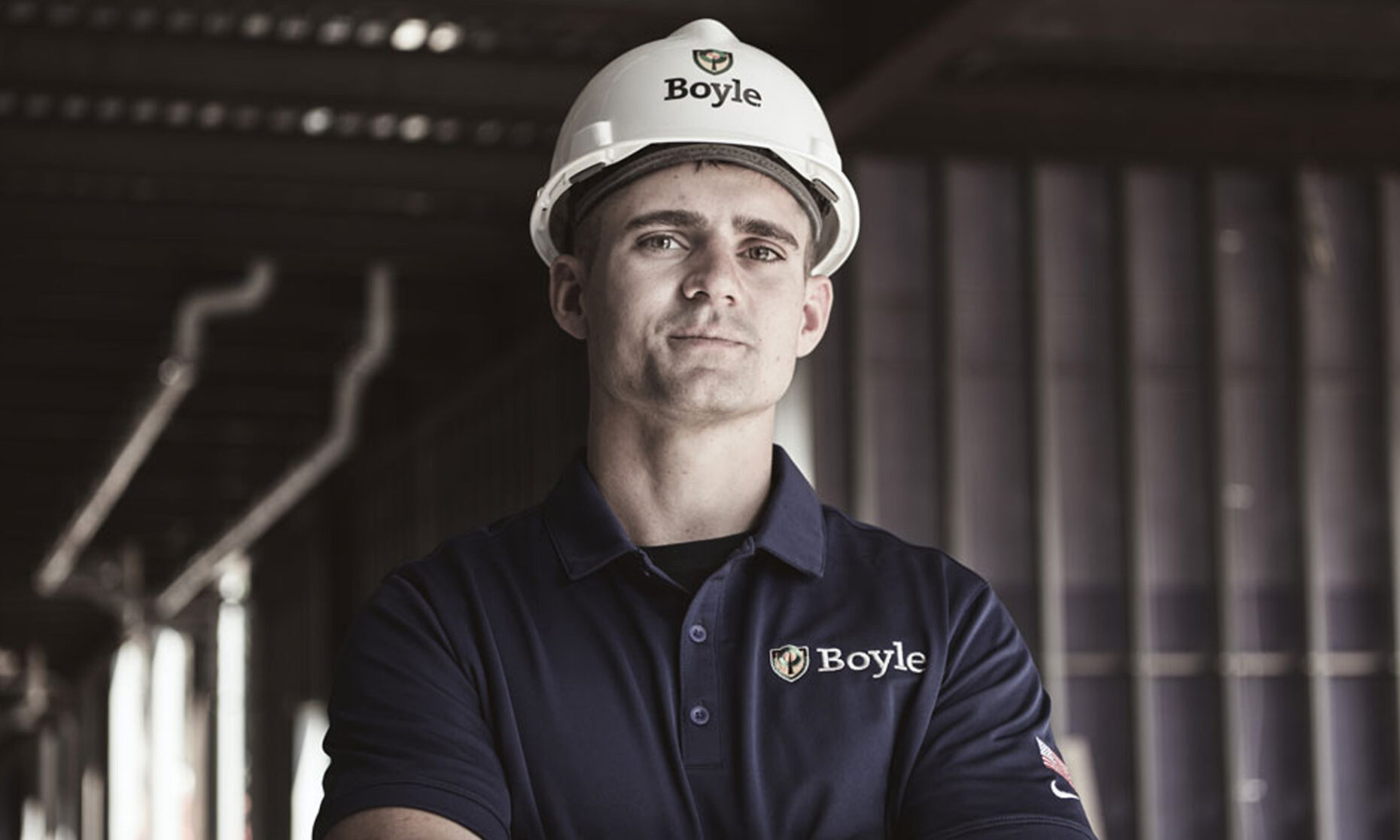 Freddie Andrews, Working Superintendent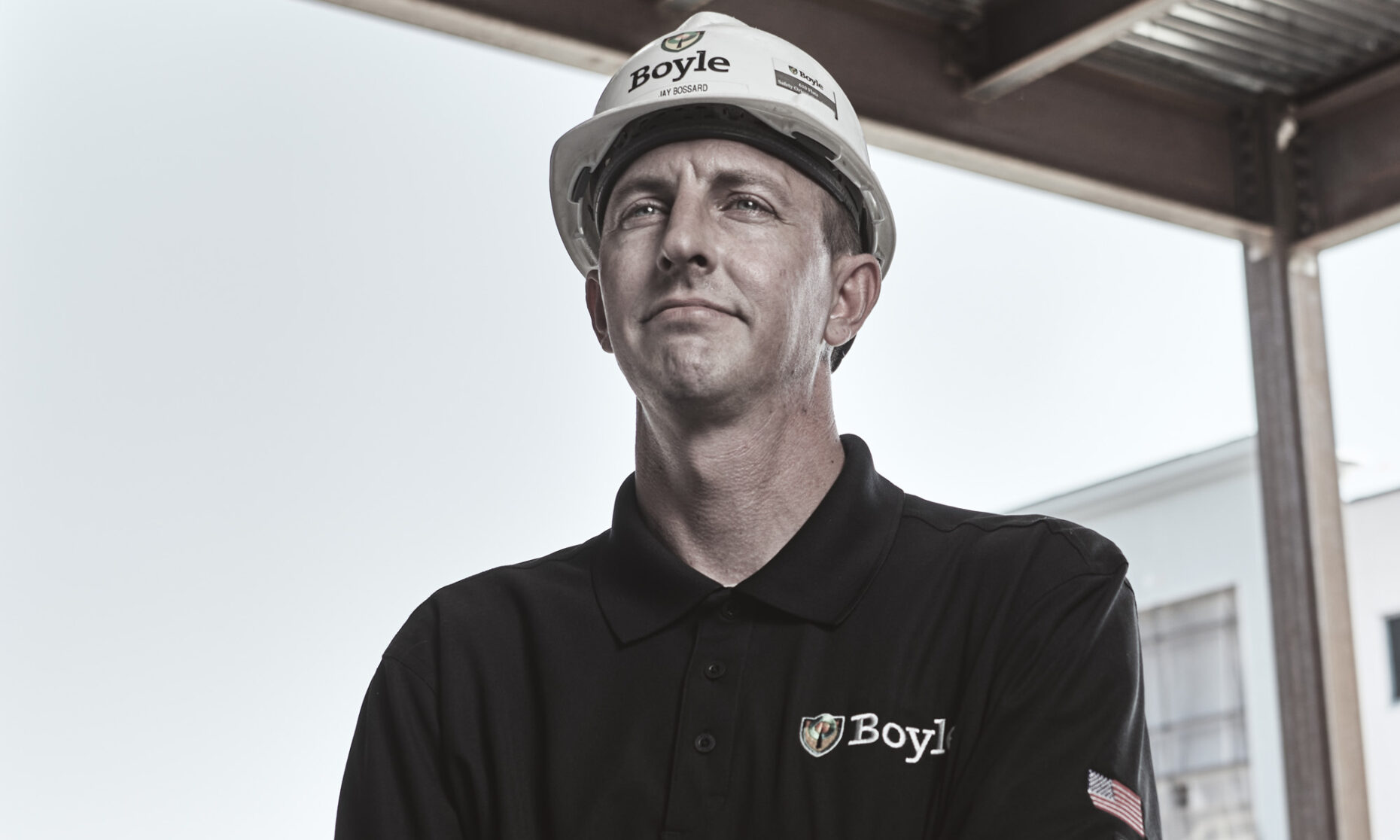 Jay Bossard, Working Superintendent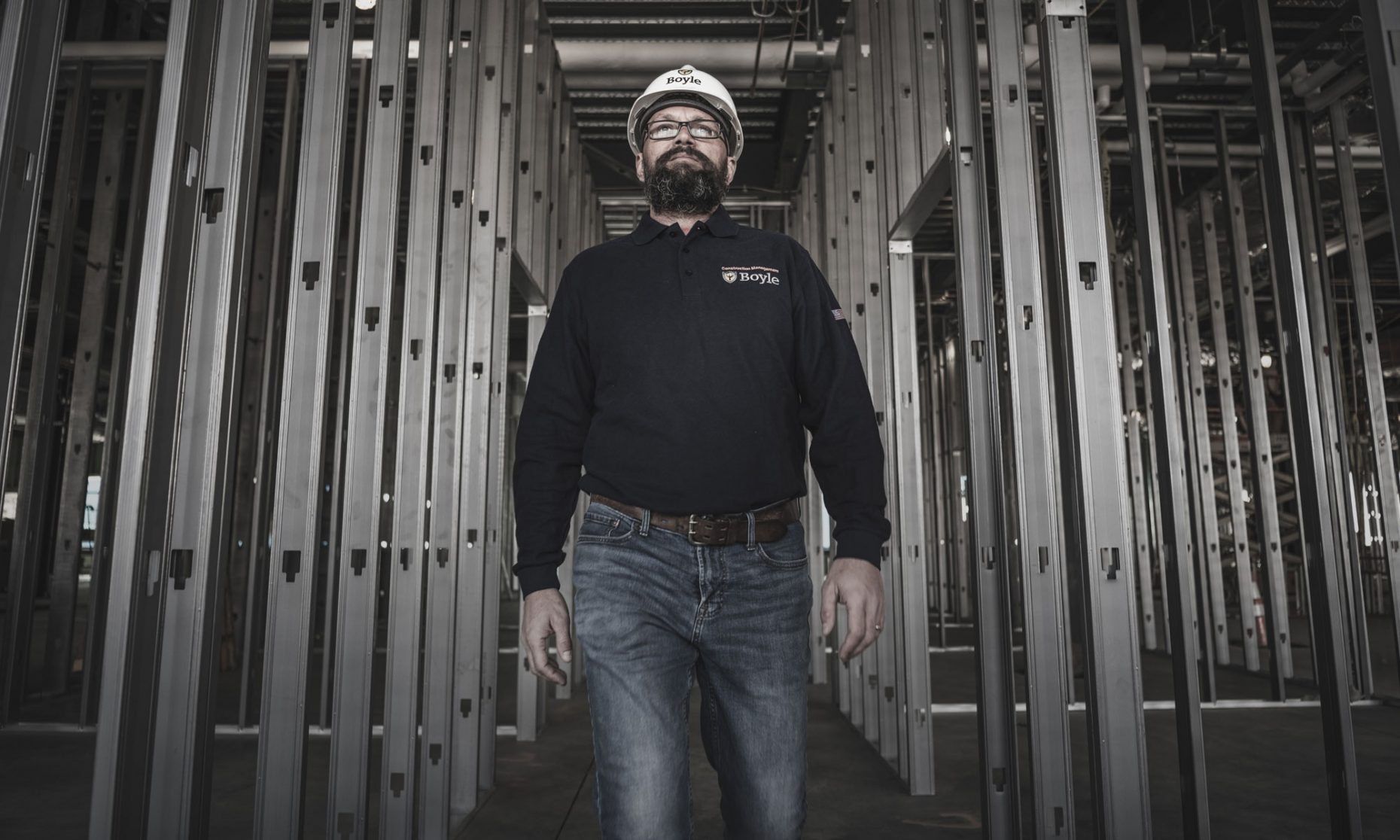 Matthew Dysart, Superintendent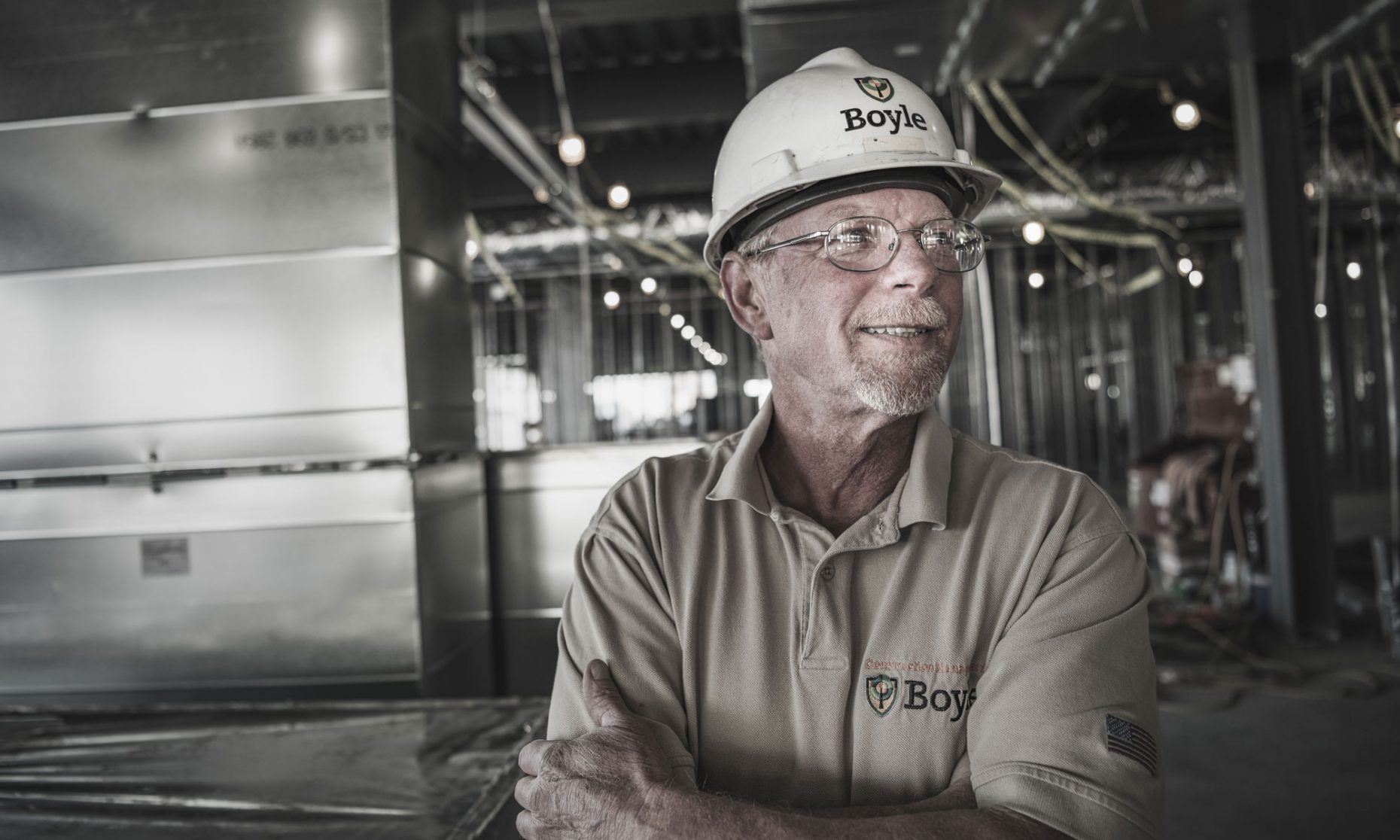 Bill Gambler, Superintendent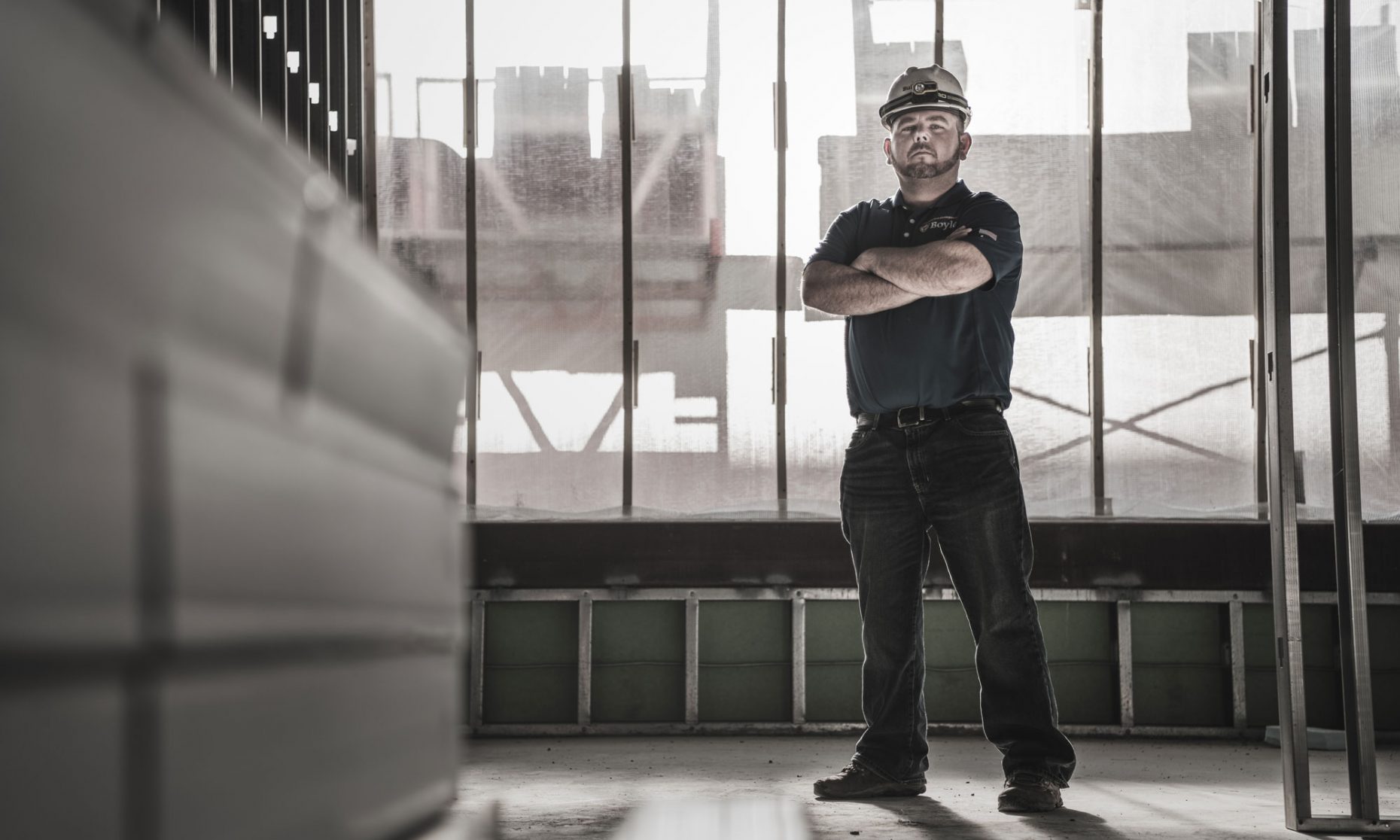 Stephen Gass, Sr. Superintendent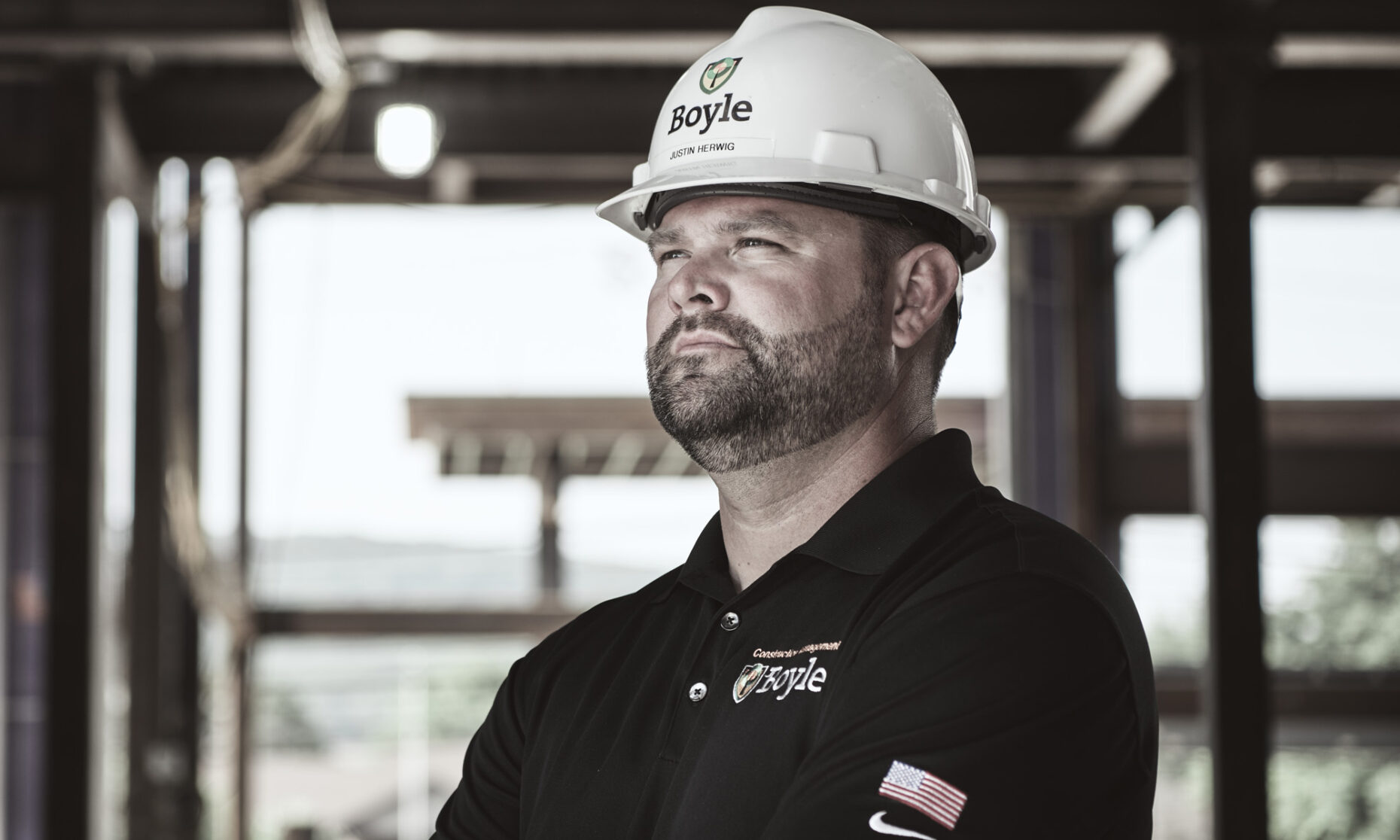 Justin Herwig, Superintendent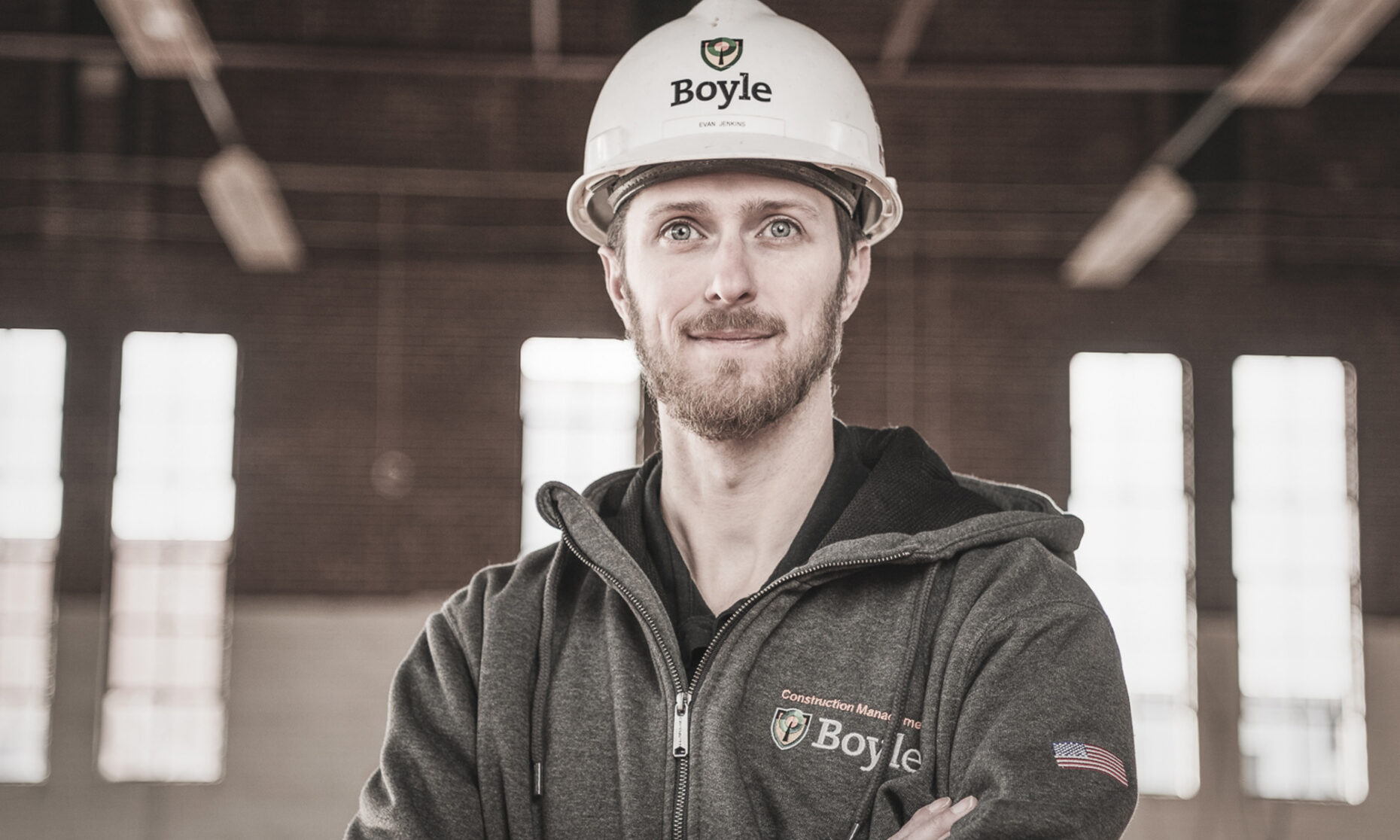 Evan Jenkins, Superintendent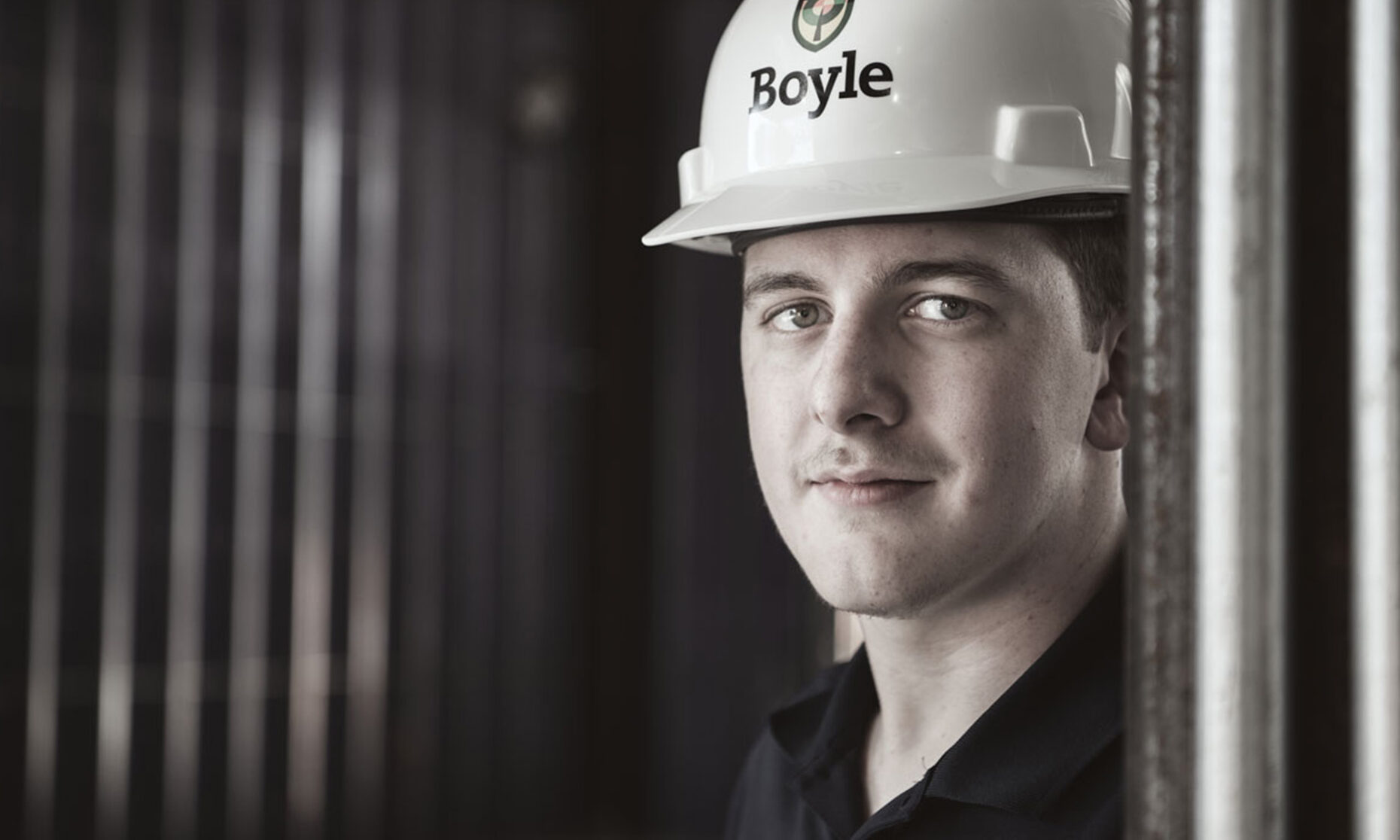 Andrew Jerry, Working Superintendent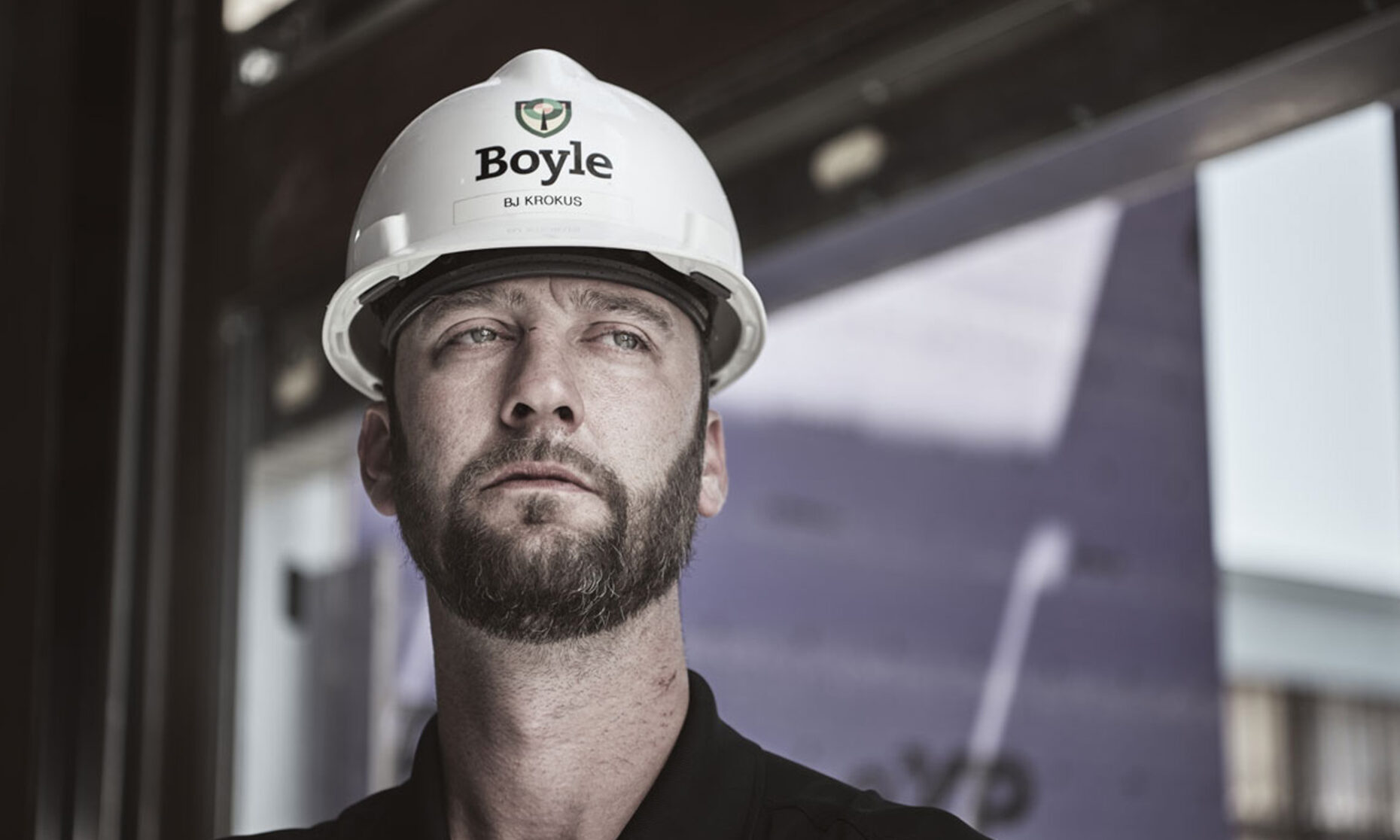 B.J. Krokus, Punch List Superintendent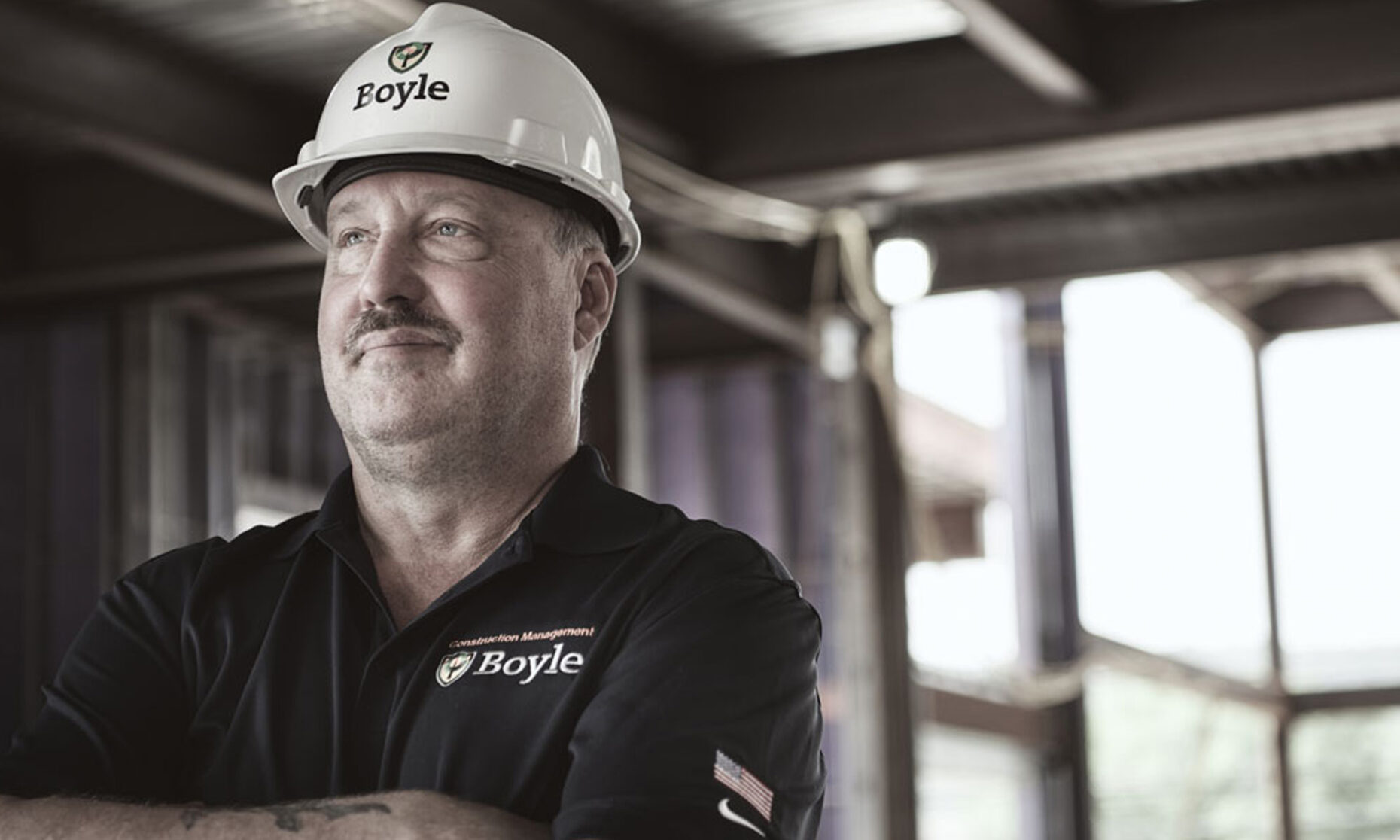 Bill Longbine, Superintendent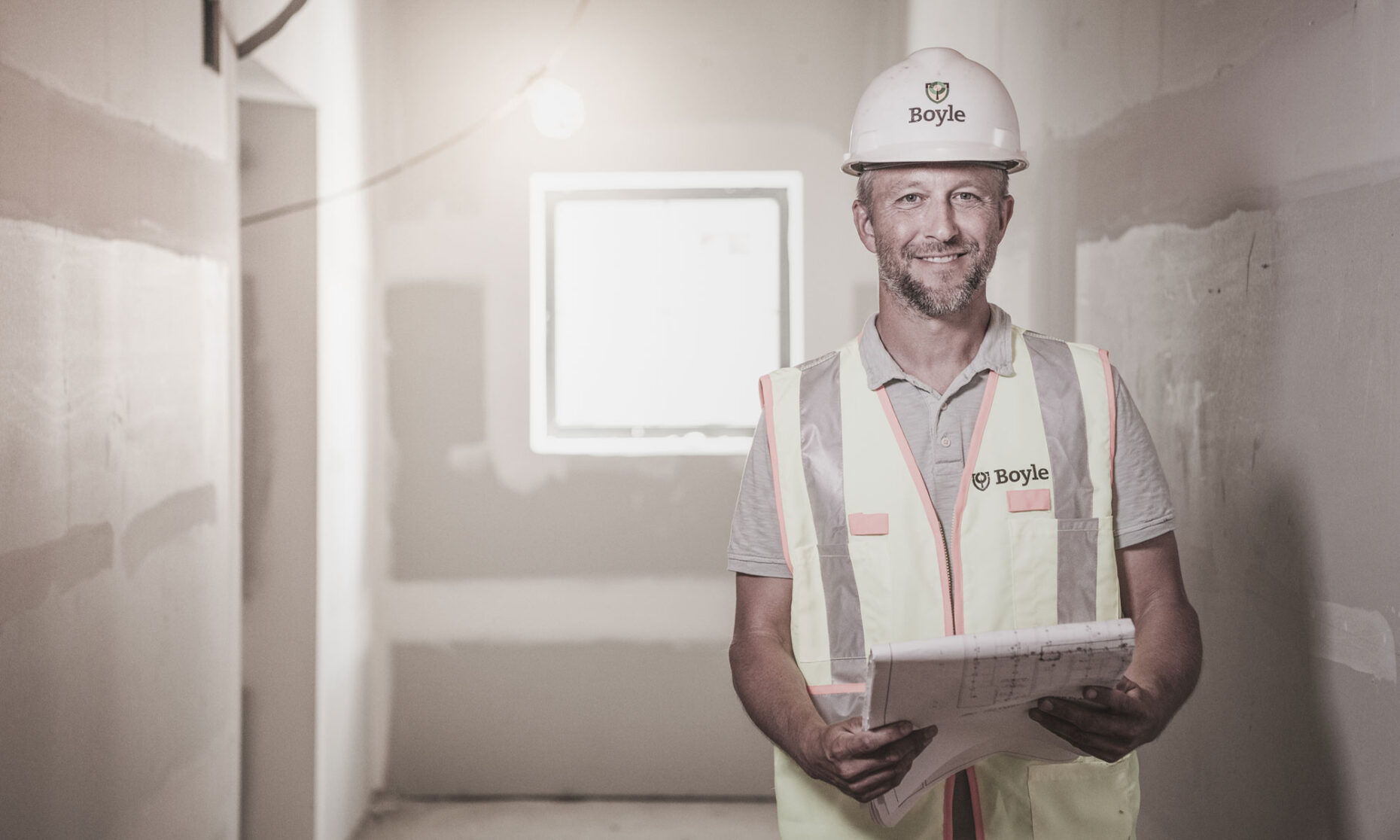 Bill Lutz, Superintendent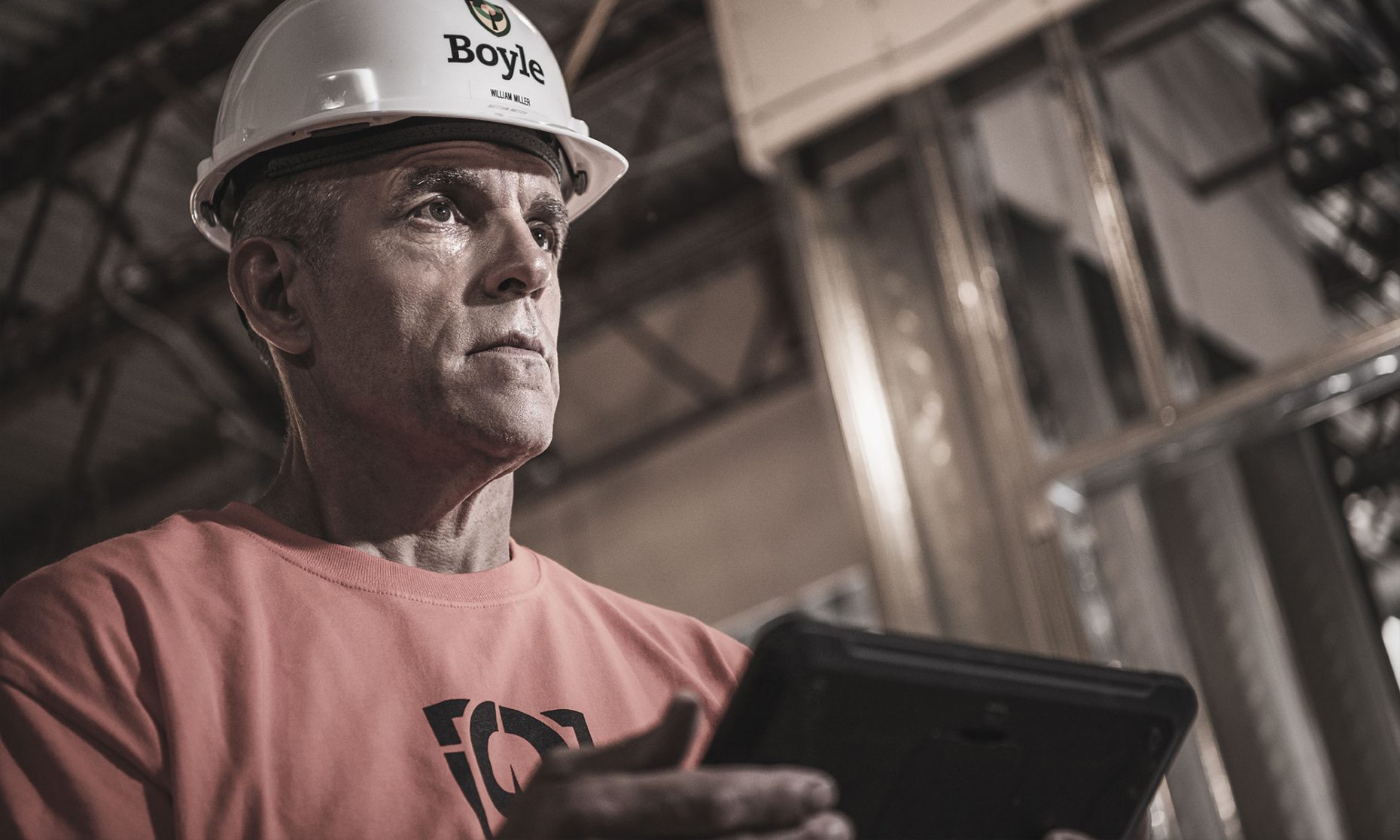 William Miller Jr., Sr. Superintendent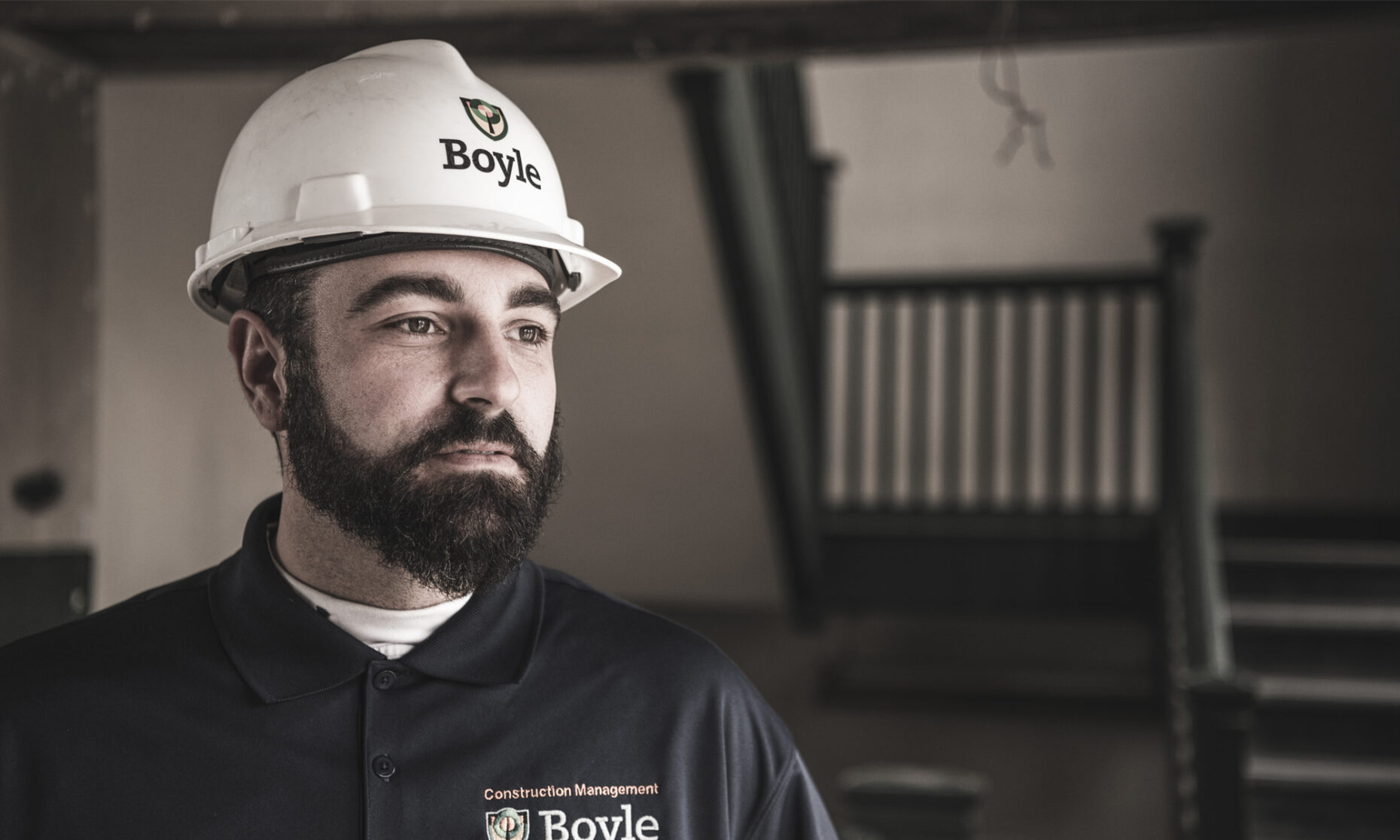 William Miller III, Superintendent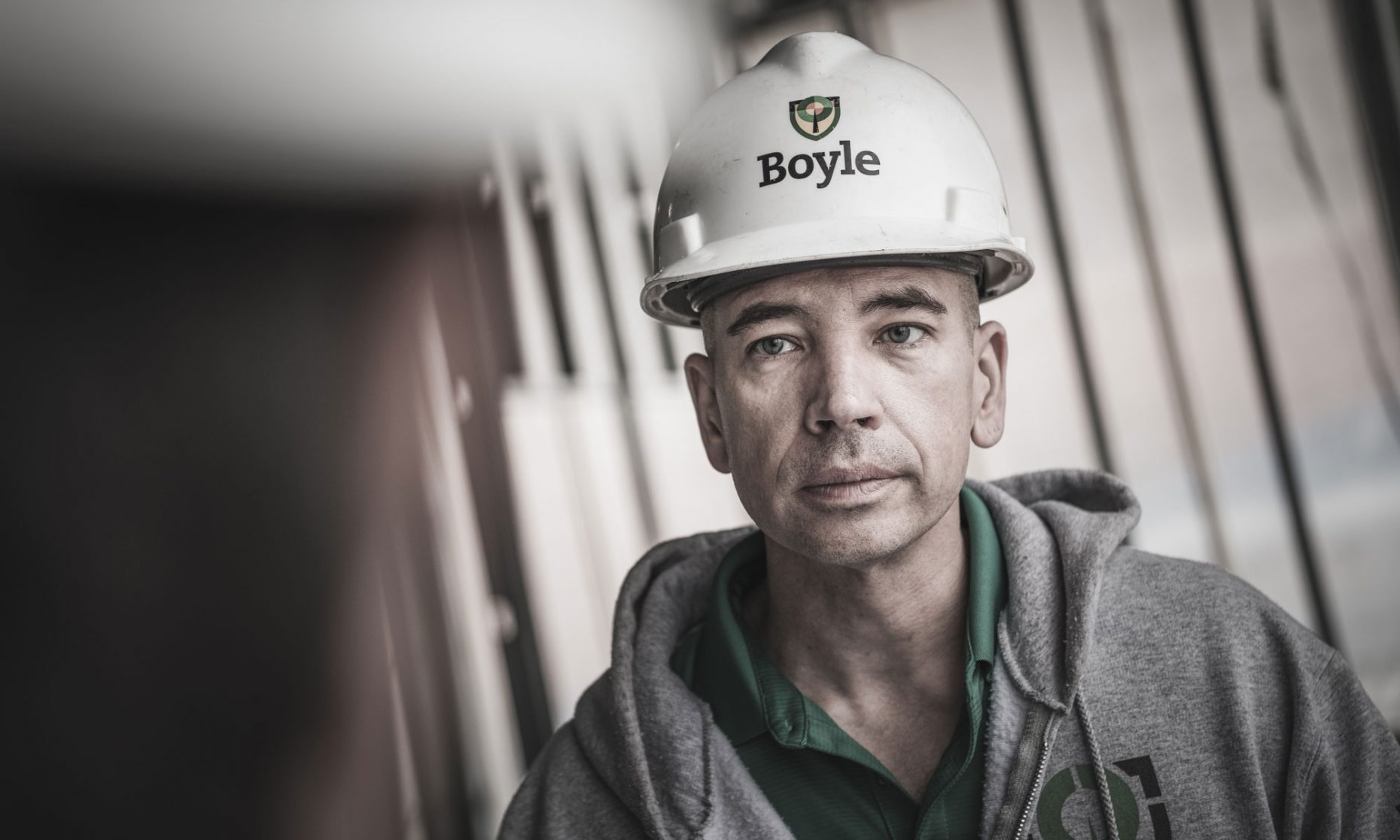 Dave Murray, Superintendent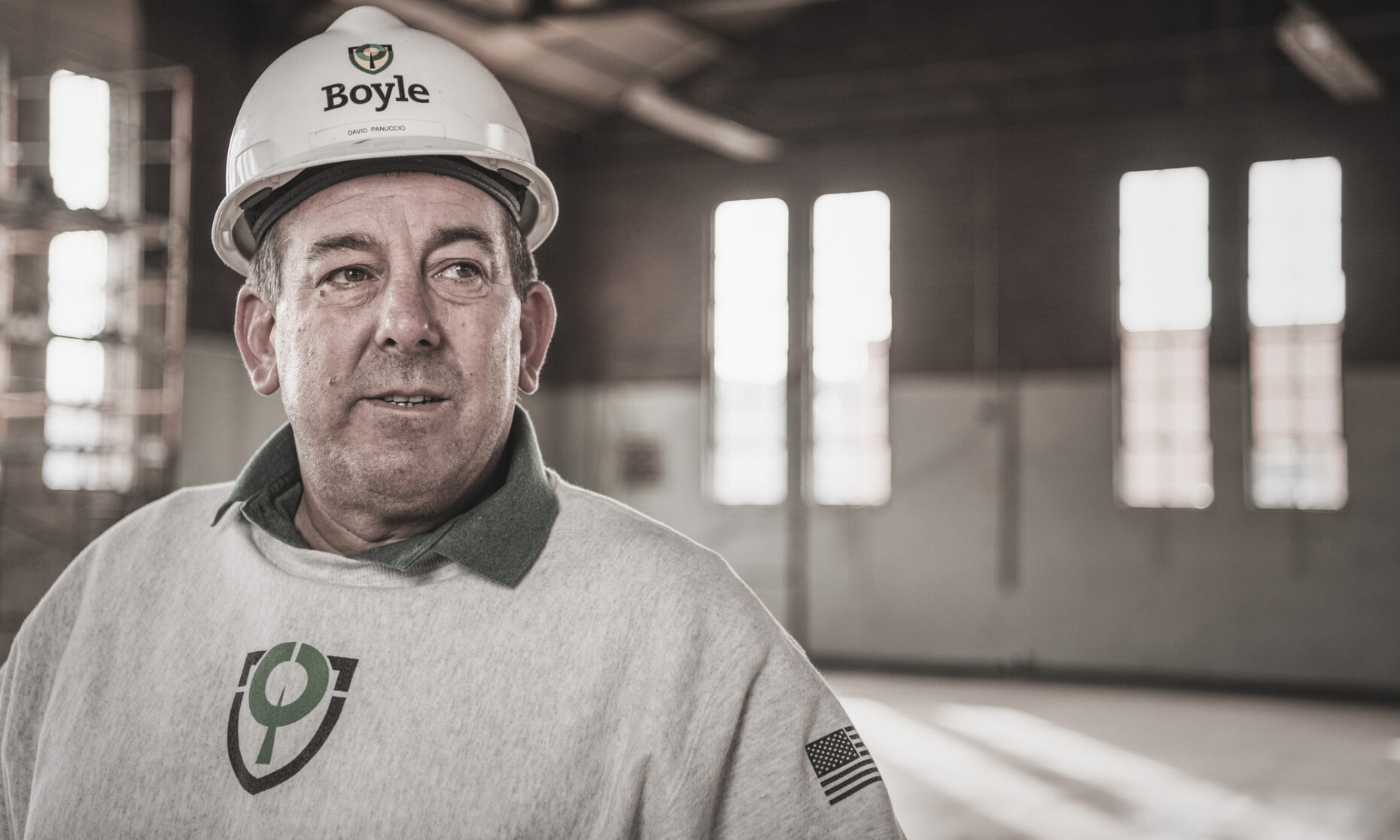 David Panuccio, Superintendent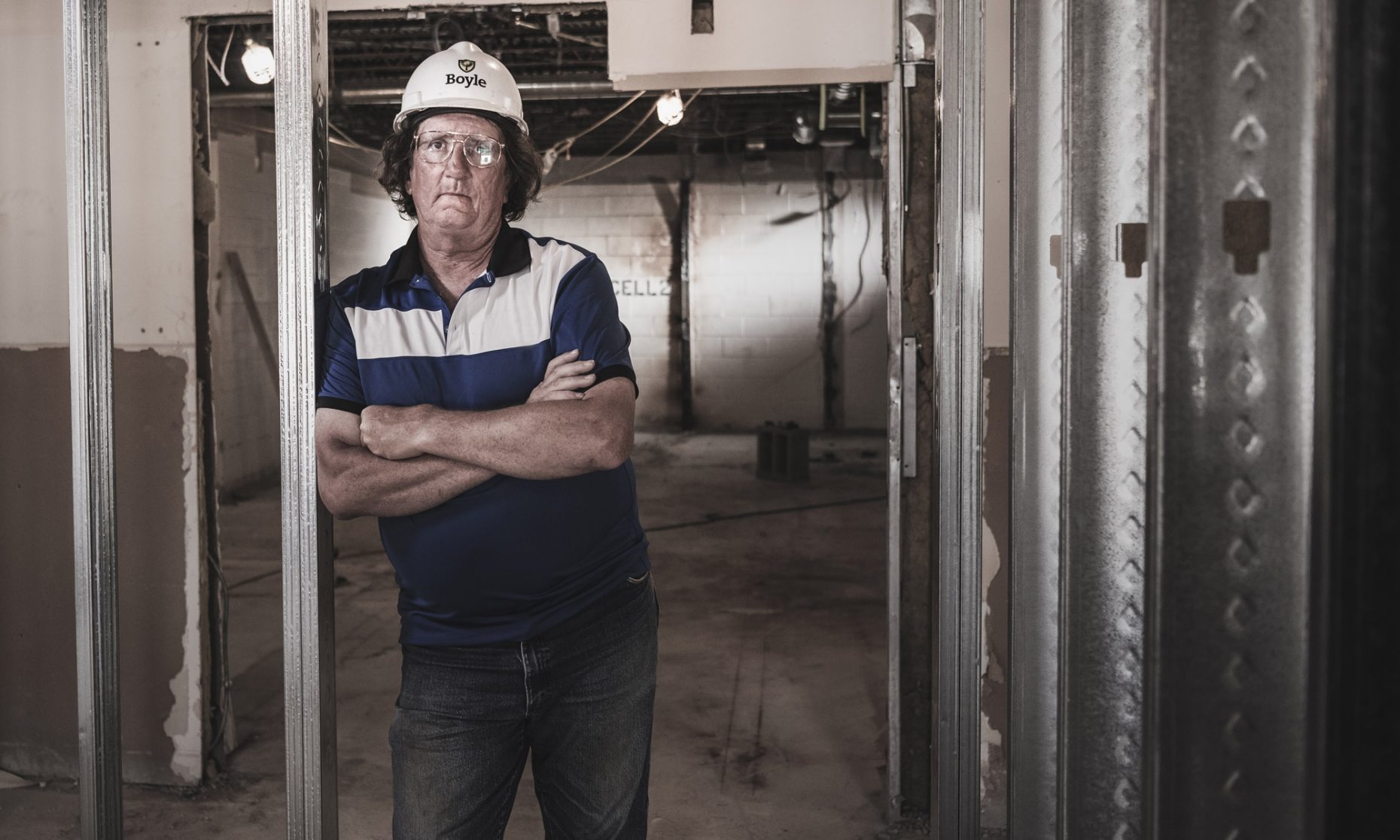 Dave Payonk, Sr. Superintendent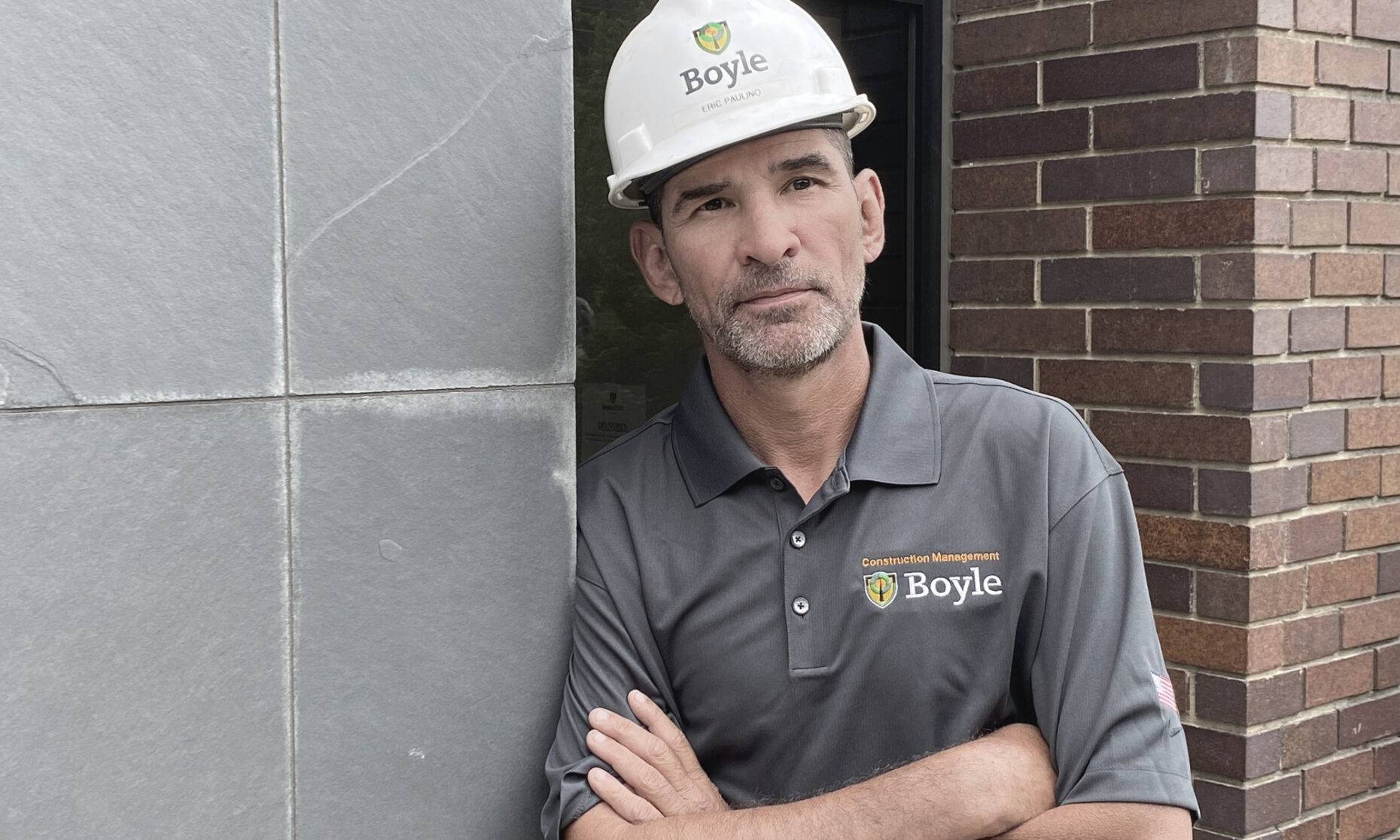 Eric Paulino, Superintendent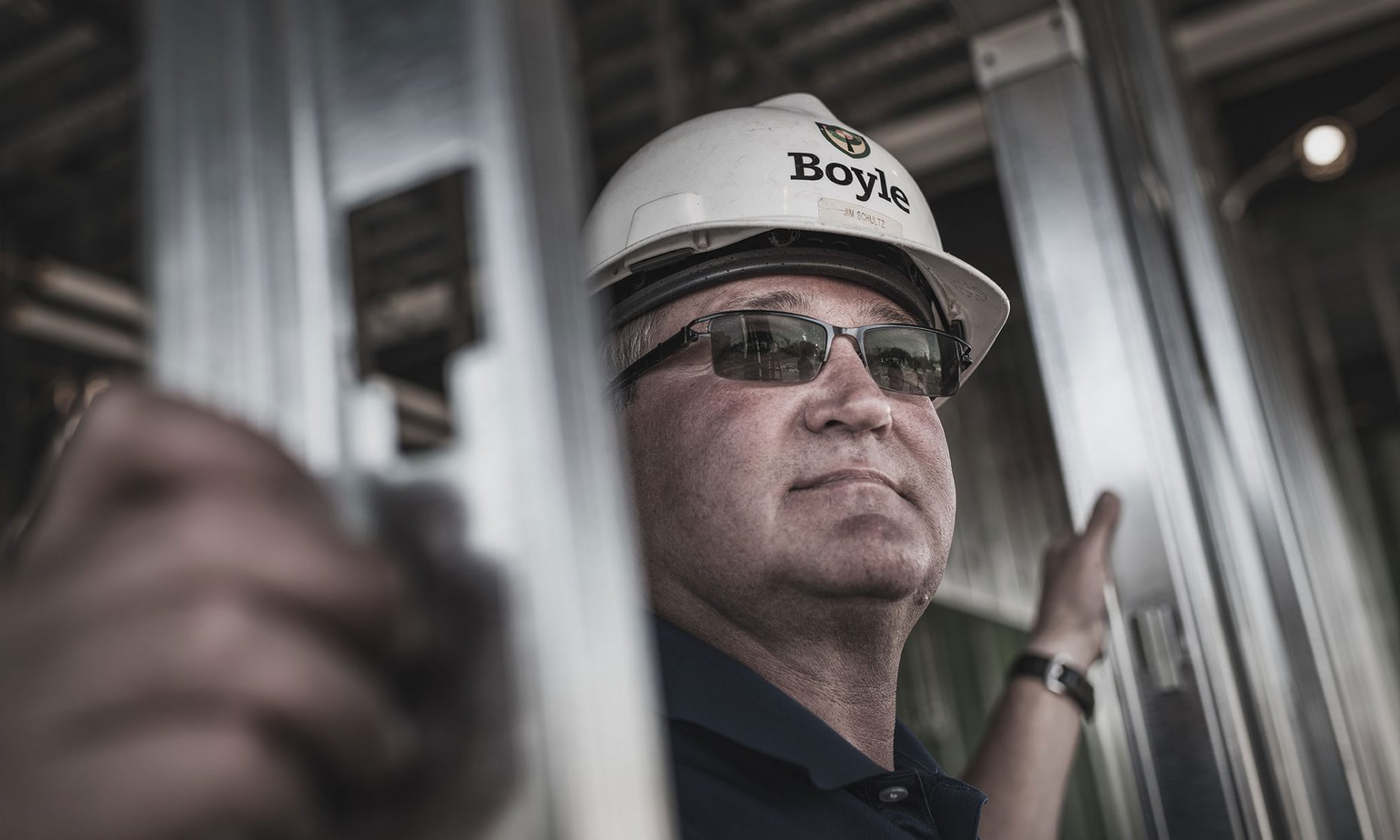 Jim Schultz, Sr. Superintendent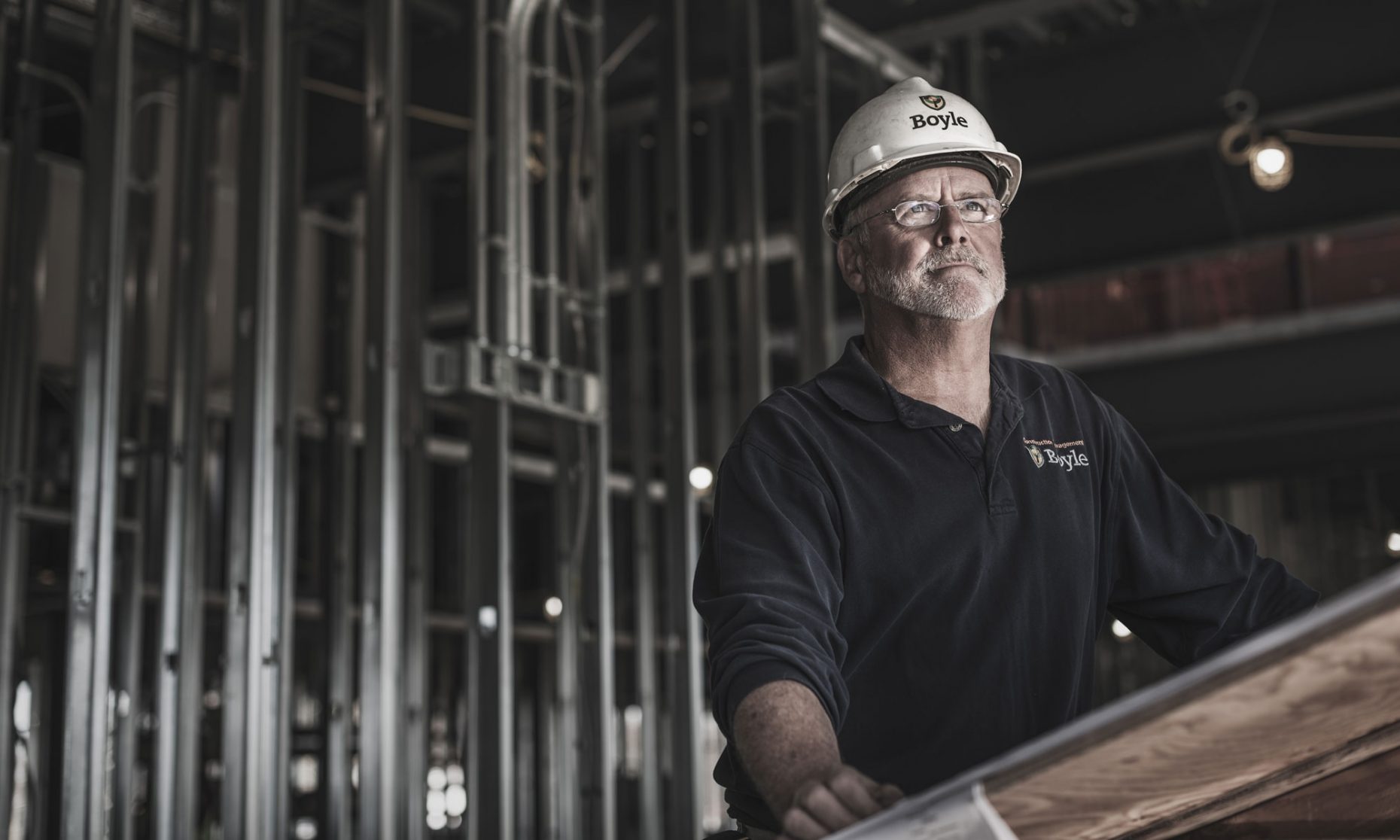 Jeff Shanahan, Sr. Superintendent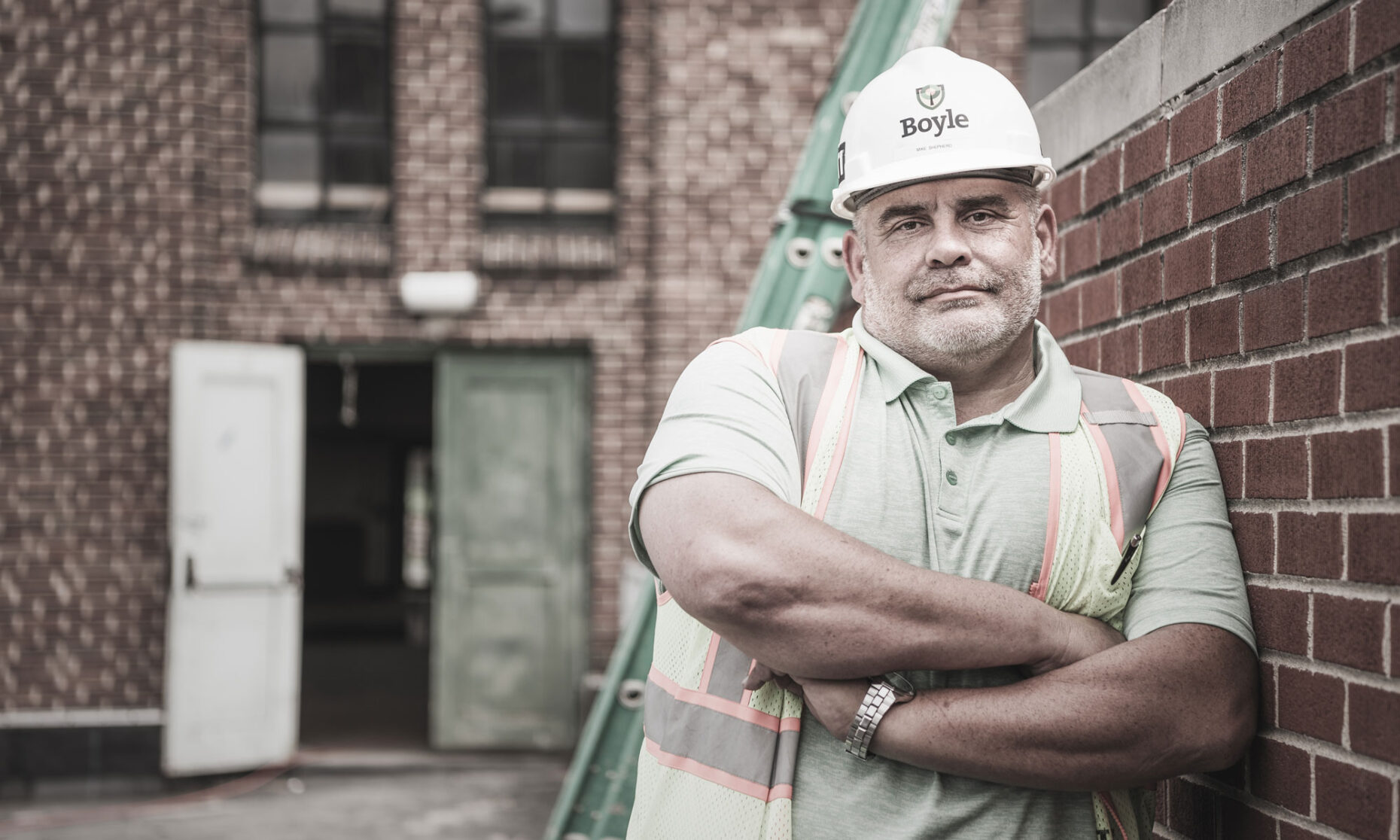 Mike Shepherd, Superintendent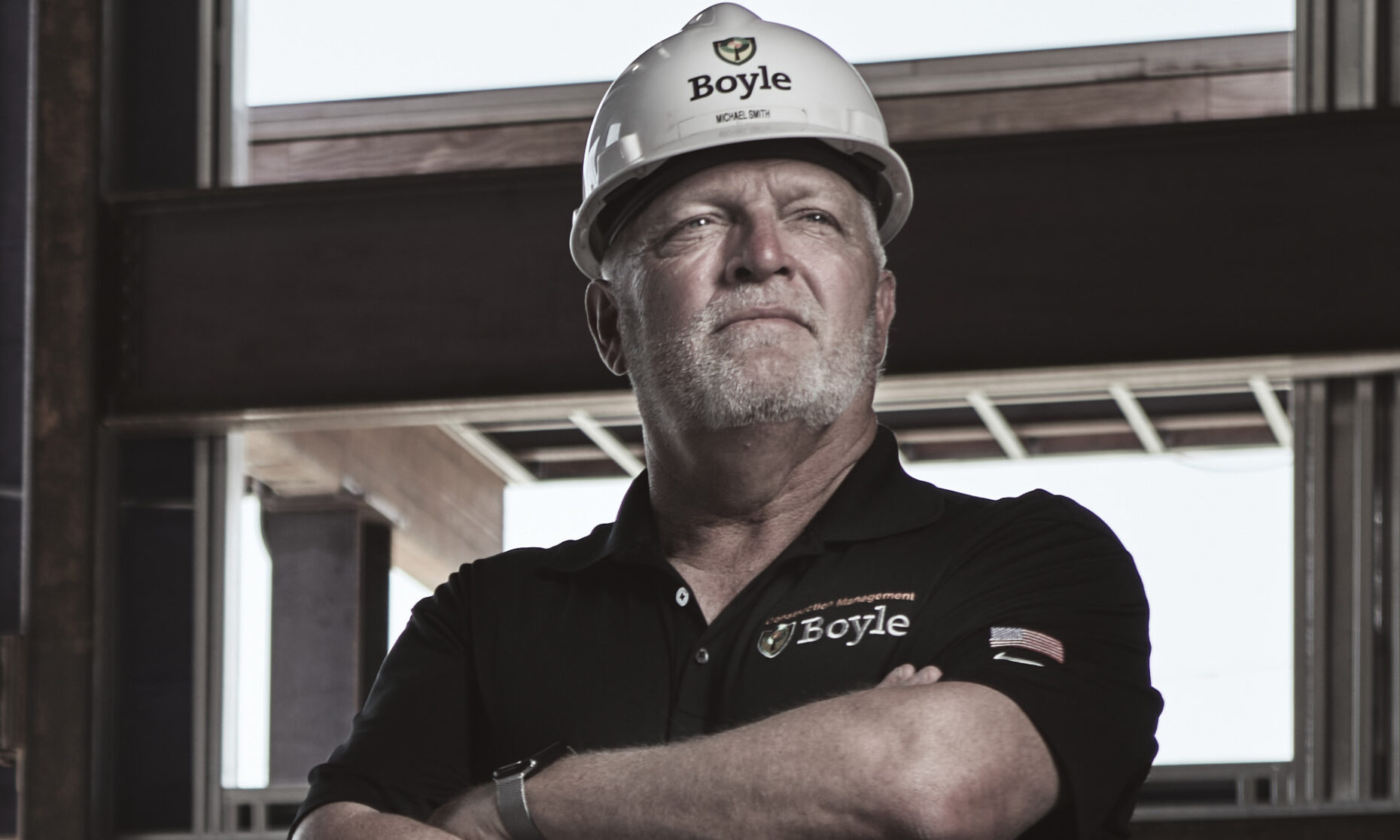 Michael Smith, Sr. Superintendent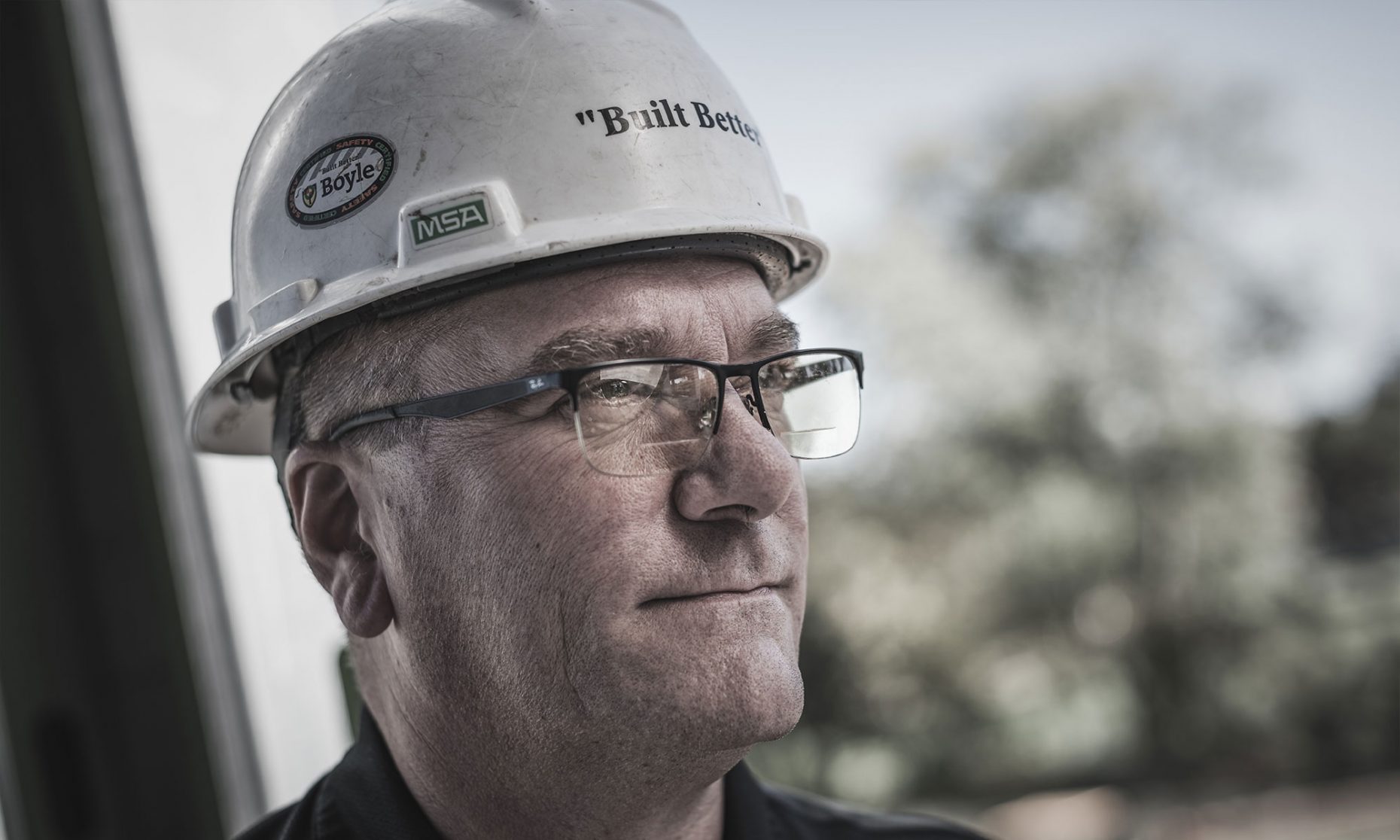 Randy Thomas, Superintendent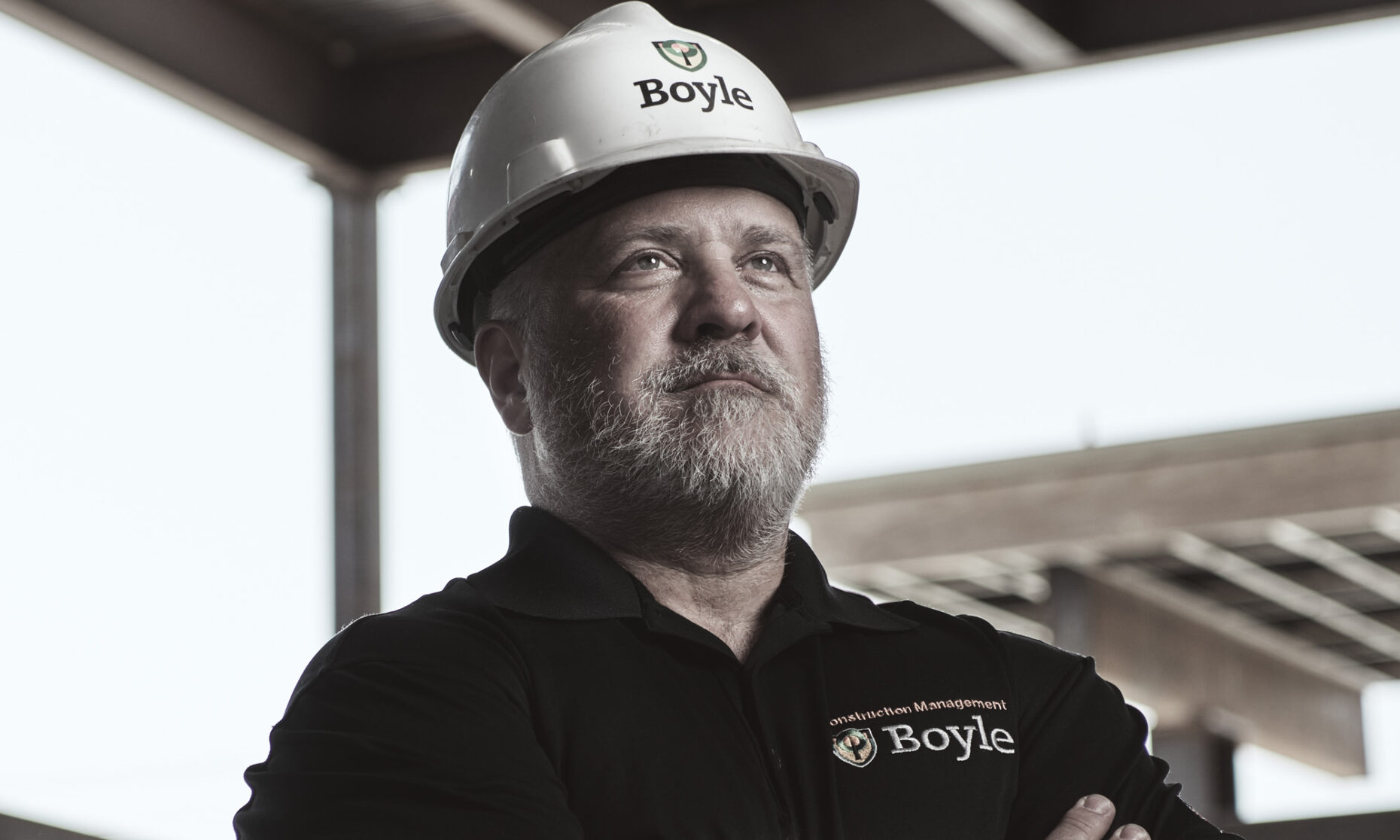 Joe Torelli, Superintendent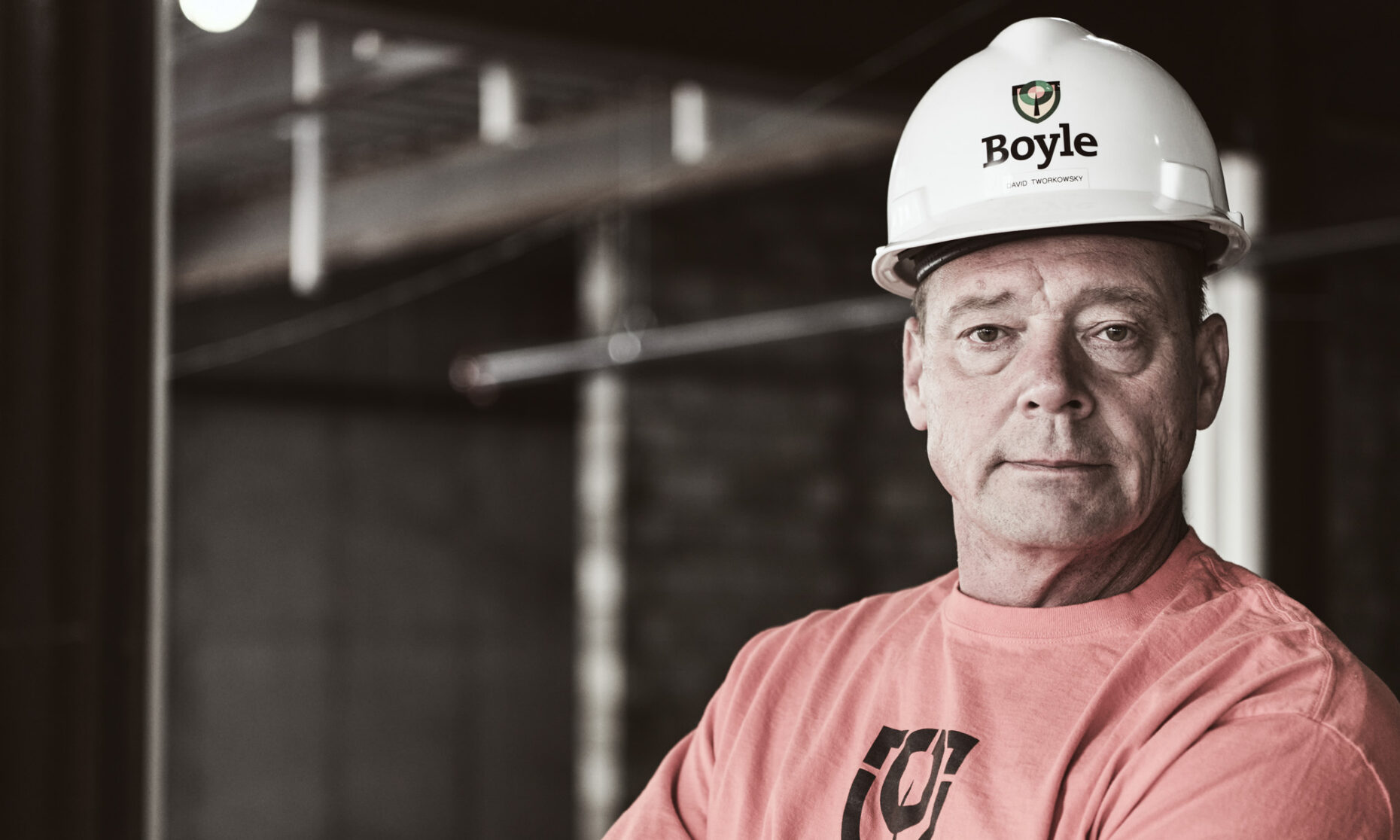 Dave Tworkowsky, Working Superintendent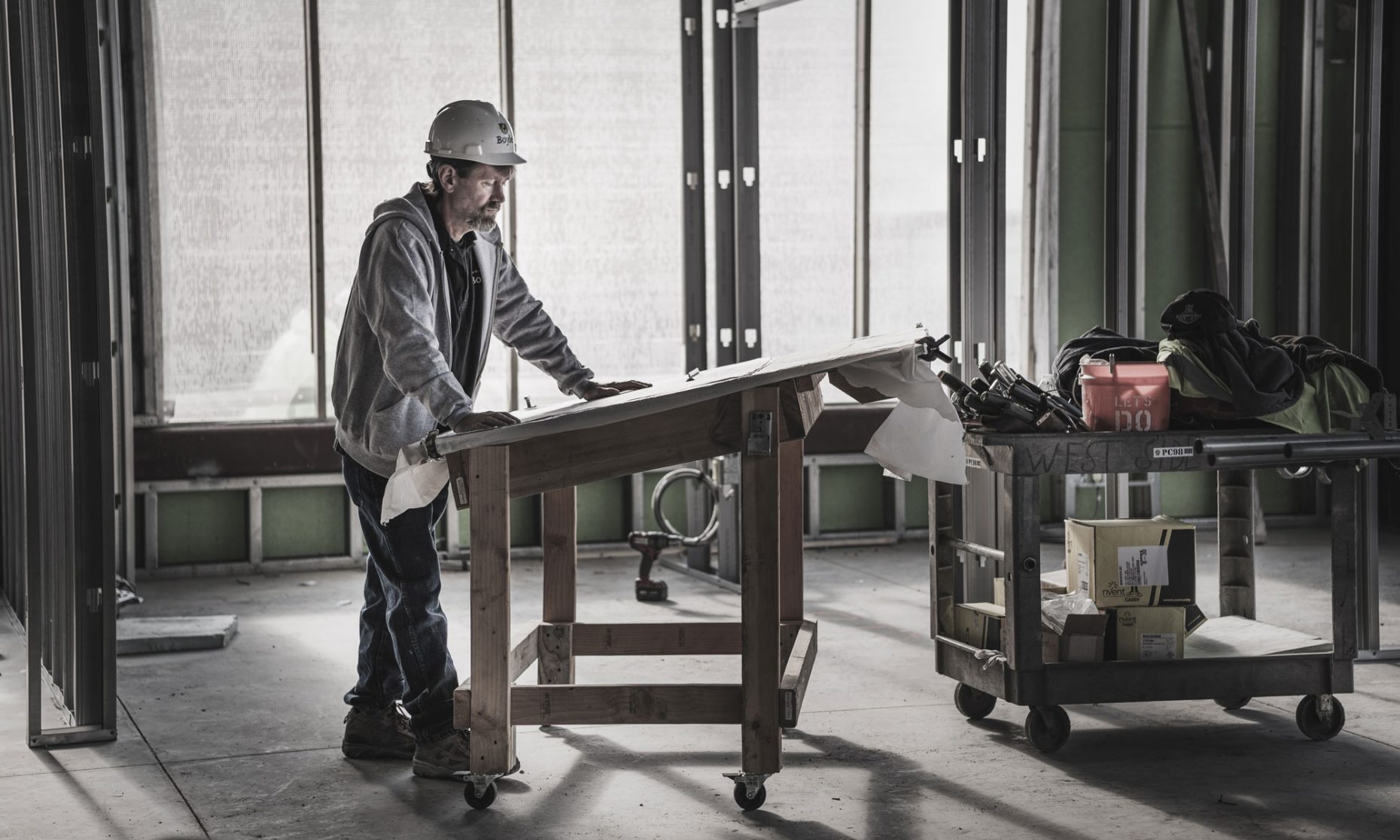 Jeff Utsch, Superintendent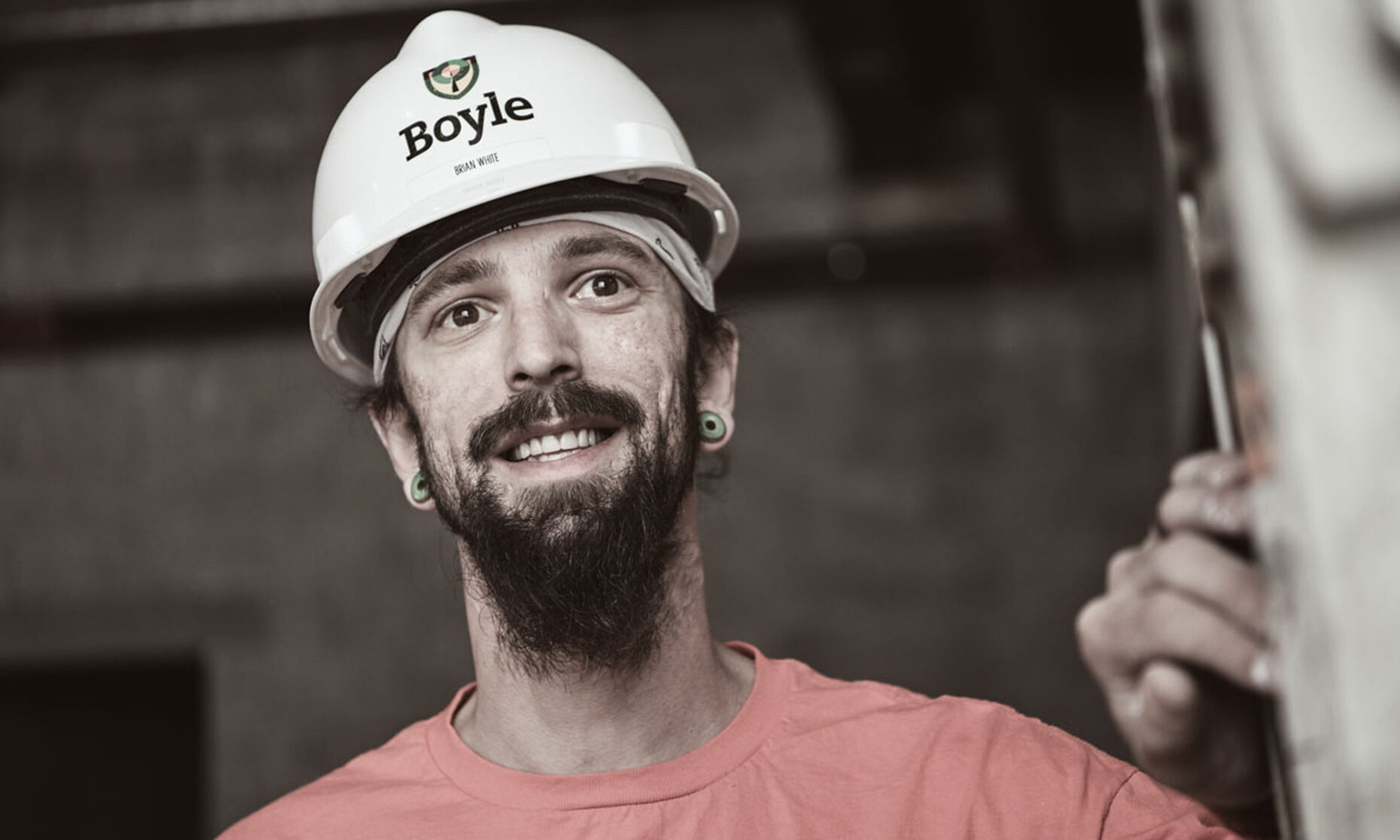 Brian White, Working Superintendent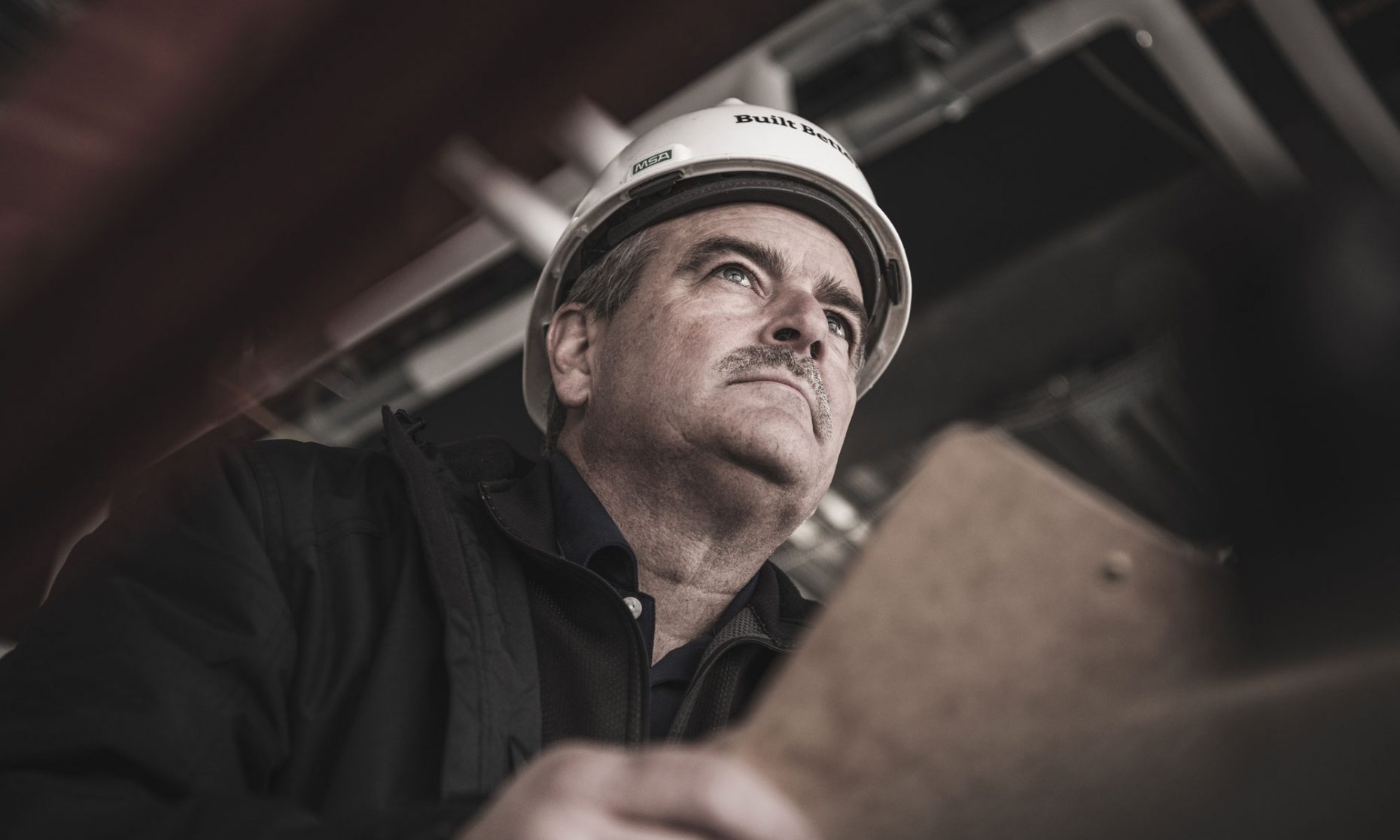 Joe Wildman, Sr. Superintendent
A foundation for growth.
We go way back. Anthony Boyle and George Moore started Boyle & Moore as a general construction firm in 1977, believing that clients deserve service first and foremost. With the rise of design-build and construction management in the 1980s, we added services and grew quickly. Tony became the sole owner in 1985 and Boyle Associates was born. With every success, he would say, "Better Built By Boyle." Tony's son, Sean, took over the family business in 1996 as president. Today, Sean's son Dylan plays a vital role today in the company's leadership and its future. We designed our logo in 2001 and became Boyle Construction. Tony's enduring belief that "construction is a relationship business" drives everything we do.
Building a better logo.
Our logo was inspired by the ancient Boyle family crest — a shield with an oak tree. It symbolizes our commitment to building better. Boyle gold represents generosity; green signifies hope, joy and loyalty; black stands for consistency; orange means worthwhile ambition. The oak tree reflects endurance and strength. The family crest and shield logo represent our high standards and aspirations.
Our mantra Built Better means what it says — quality construction services for 46 years and counting.

Looking for something particular? With over 46 years in business it's likely we've got experience in it. Let's Discuss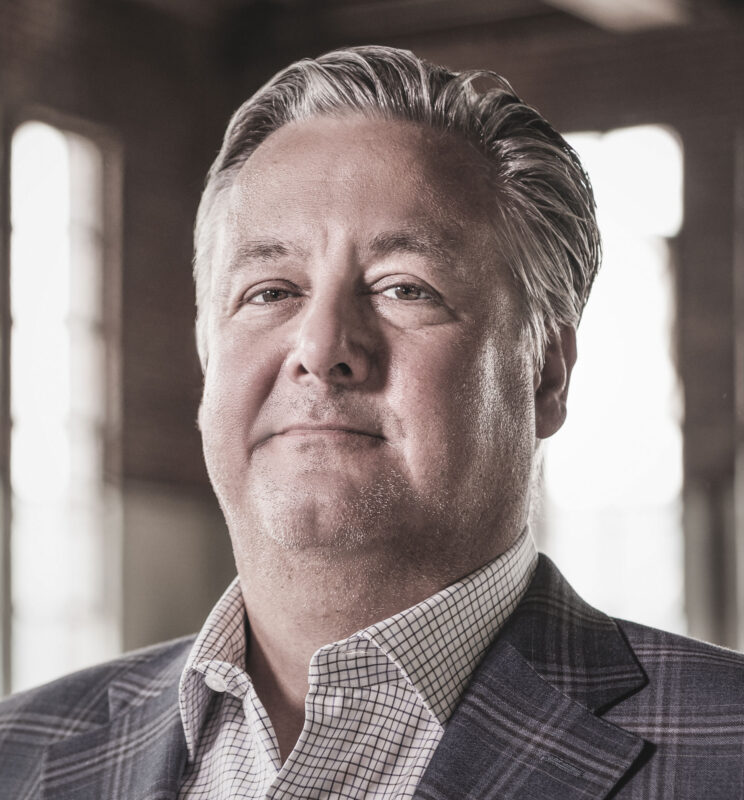 Sean A. Boyle
President
Sean learned the construction business the right way: from the ground up. He's been a laborer, carpenter, layout engineer, superintendent, project manager and vice president. In 1998, he became president. He earned a BS in Architecture and a Master's in Engineering from Catholic University of America. Sean is a hands-on leader and has a talent for building collaborative teams. He oversees all operations including preconstruction on larger projects. Sean isn't one to spend lots of time sitting behind his desk. There's a good chance you'll see him at a building site working with his project managers.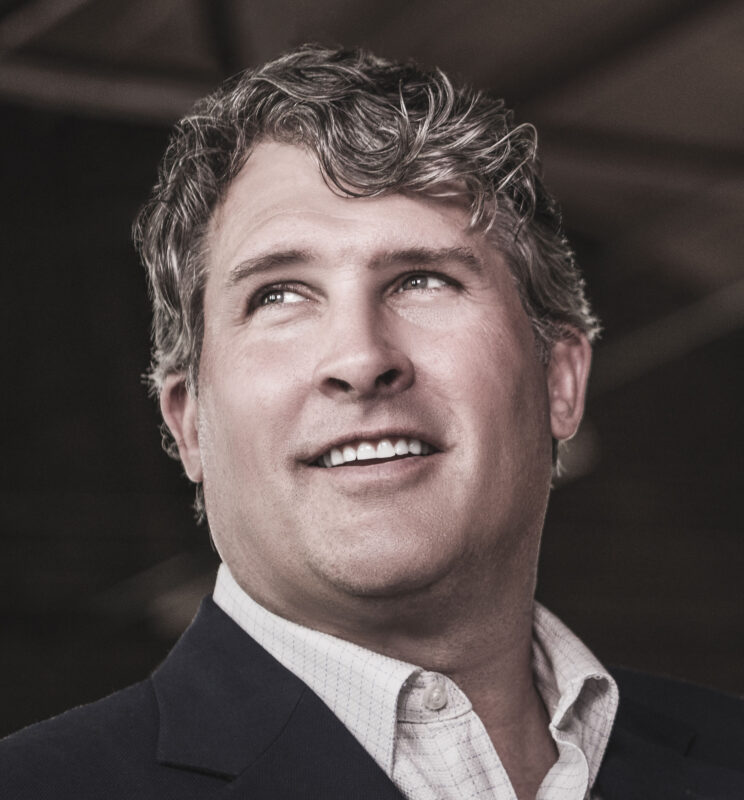 Ken Duerholz, RA, LEED AP
Executive Vice President
Every construction company needs someone who speaks architect fluently. Ours is Ken Duerholz. He's a Registered Architect and our Executive Vice President. Ken started here in 2000 and oversees management for major company projects and excels at conceptual estimating. His background as an architect boosts our efficiency and heads off construction complications. In addition to being a Registered Architect and LEED AP professional, Ken is also ASHE certified. He has BA and BS in Architecture from Catholic University. Before working at Boyle, Ken was an estimator for a large West Coast contractor and spent 5 years as a working architect. He has experience estimating projects in excess of $450 million.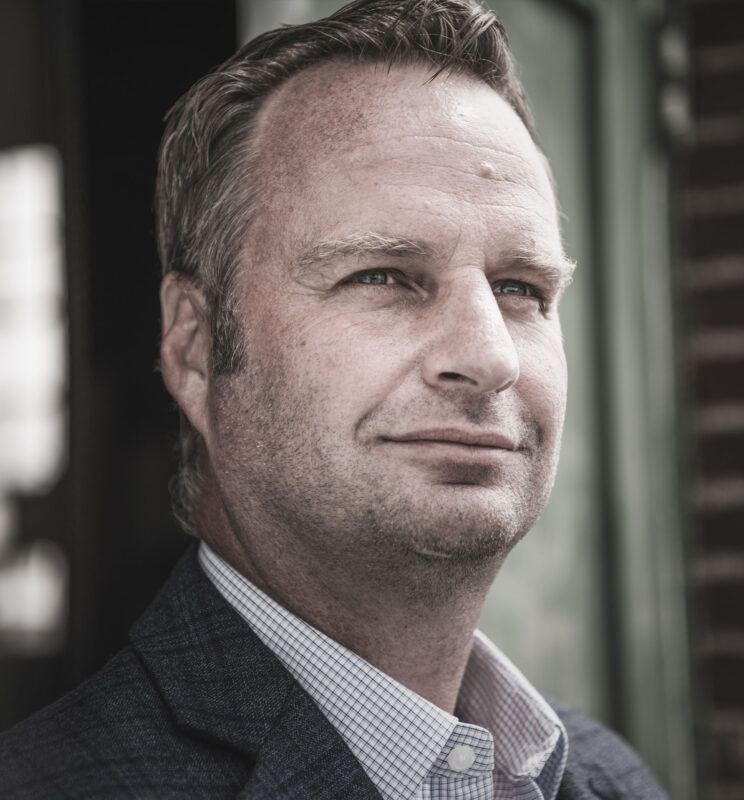 Ed Flowerdew
Vice President of Operations
Ed's nearly 2 decades of construction experience is, in a word, diverse. All that accumulated expertise helps him to communicate seamlessly with subcontractors, government officials, architects, engineers, utilities, and most importantly, clients. He is a GA Certified Practitioner with a BS in Natural Resources from the University of Maryland. As our Vice President of Operations, Ed oversees estimating and manages projects. He estimates, negotiates and purchases subcontracts, builds out schedules and runs project meetings. When your project goes smoothly, you can thank Ed for efficiently pulling it all together.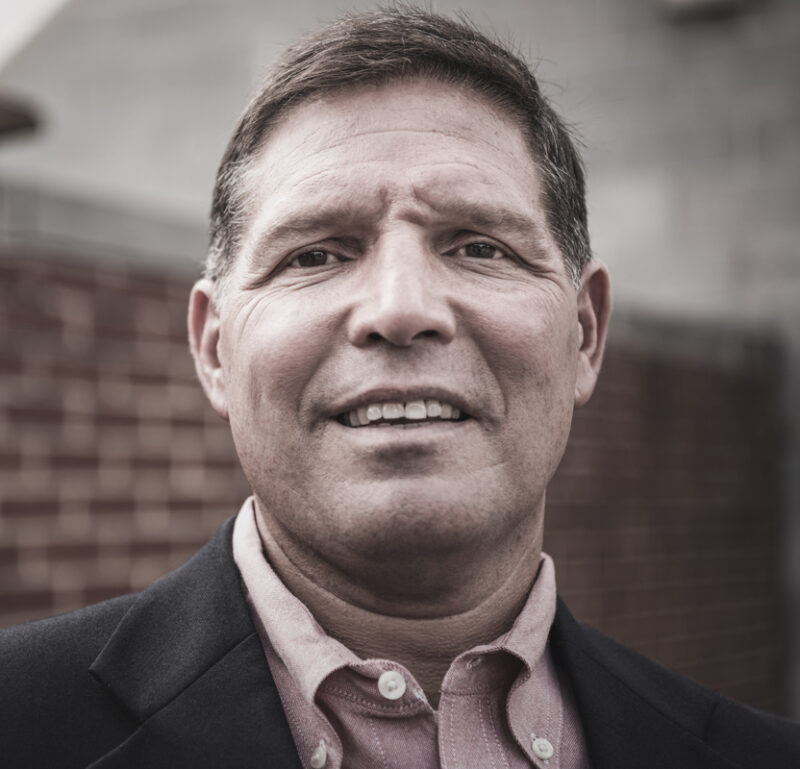 Tony M. Ganguzza, PE
Vice President Preconstruction Services
In a past career, Tony spent nearly three decades as a consulting engineer in New Jersey and Pennsylvania for private and municipal clients. He also has experience as a municipal employee coordinating with all departments to build projects of all sizes gave him some valuable expertise: navigating red tape to get things done. Since joining us in 2013, Tony has used his Civil Engineer expertise to manage our public construction management team and land development projects with site selection, feasibility studies and civil engineering layouts. He approaches all aspects of a project with a get-it-done attitude that shreds red tape.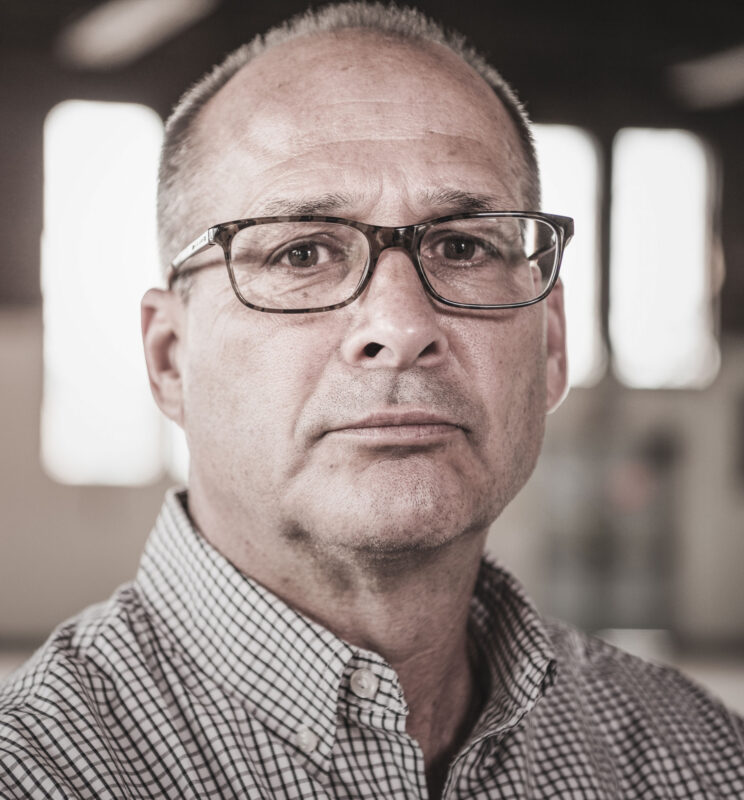 Dave Green
Vice President of Construction
After you've built a nuclear submarine testing facility, you can handle pretty much anything. Dave joined us in 2019 after working for construction management firms up and down the East Coast. He's overseen construction of 40-story office towers and entire industrial parks. Locally, Dave helped manage the construction of the 220,000 sf hospital at St. Luke's Anderson campus, a new recreational facility for Moravian College and 60,000 sf of Class A office space. And those are just a few highlights from a mile long list of projects. Dave holds a BS degree in Civil Engineering from Penn State. He oversees our project management team and ensures your project success from kick-off through preconstruction, bidding, contracts and all construction phases.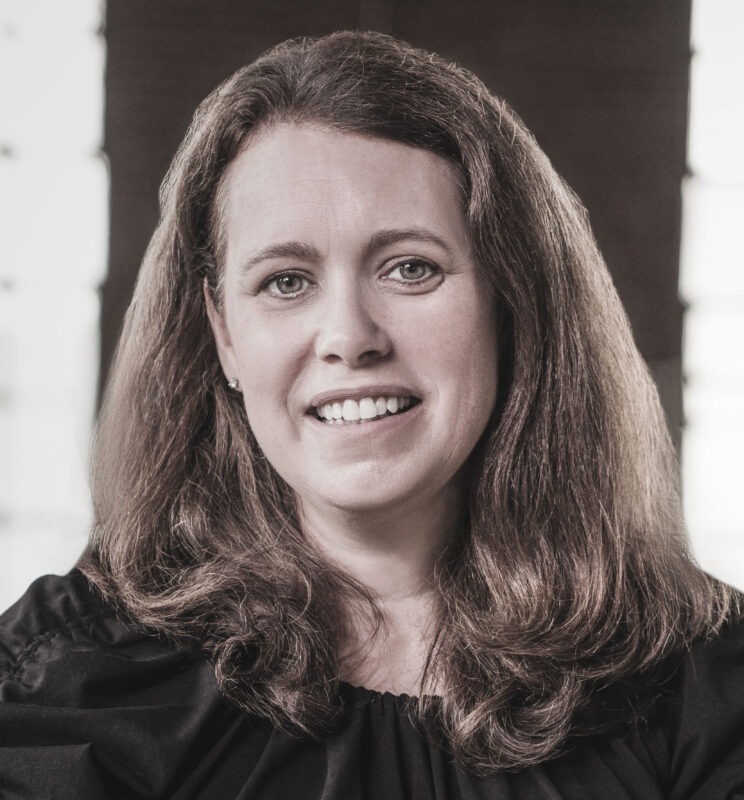 Karen Cooney Duerholz
Vice President of Marketing & Client Relations
Karen joined us in 2010 and manages our marketing, business development, community relations and customer alignment. Her deep background in land use planning lets us assist municipalities with federal and state grant applications. Karen's background helped guide developers' project plans through city and agency approval processes to obtain permitting for housing and commercial projects. She has a BS in Geography from Penn State. You will often see her around town representing Boyle at community events.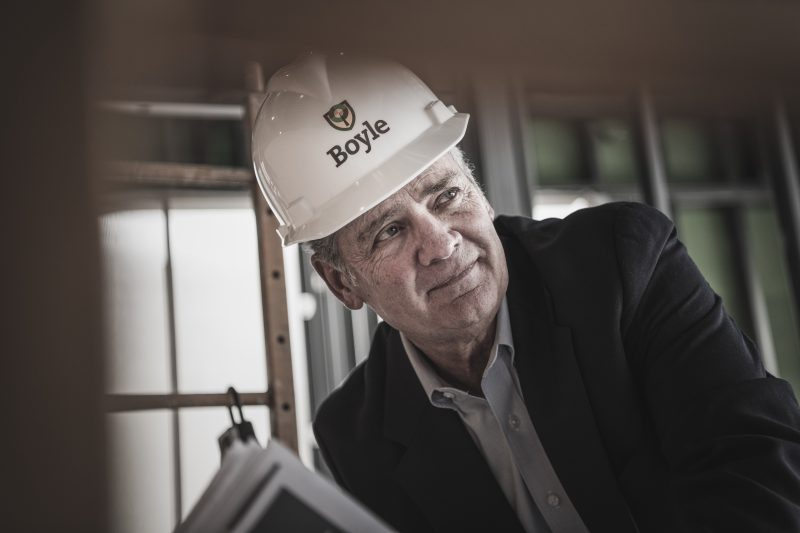 Dave Kepler
Vice President Business Development
Understanding project funding is Dave's expertise. He offers over 45 years of commercial banking management experience in commercial and industrial credit, commercial real estate financing, and overseeing wealth management in eastern PA for several financial institutions. With his background in helping businesses acquire financing and his relationship management skills, Dave will identify new opportunities and collaborate with Boyle's clients on financial solutions for development projects.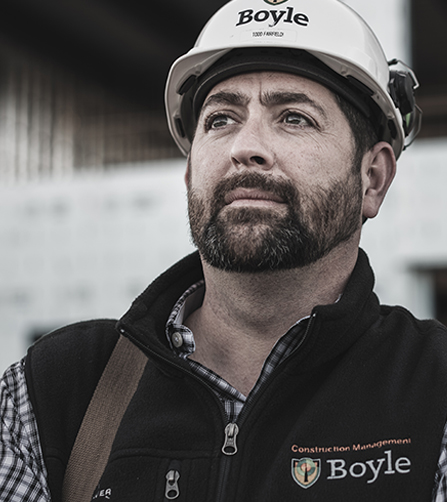 Todd Fairfield
Project Executive
Think of Todd as an extension of your staff — a point person between your team and field staff with the ability to manage multiple projects and the hundreds of details for each of them. It's a valuable skill developed over 23 years of hard core project management covering every facet of construction. Before coming to Boyle, Todd worked as a Field Superintendent helping to manage large-scale projects for St. Luke's University Health Network and Dorney Park and Wildwater Kingdom. The experience gave Todd impressive problem solving skills that's put to good use on every project.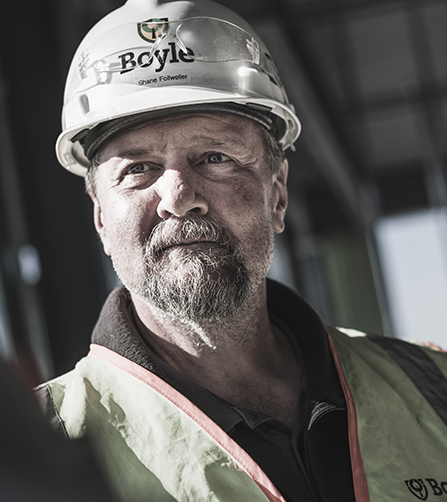 Shane Follweiler
General Superintendent
Shane started here in 1986 and claims the title of longest serving employee. He worked his way up through a combination of unmatched mechanical skill, relentless attention to detail and a willingness to learn. No one in the business is better at planning, managing and seeing ahead — thinking about what's happening now to avoid potential issues later. As General Superintendent, Shane is responsible for Superintendent management and daily scheduling of onsite personnel. He also ensures every jobsite is a safe place to work.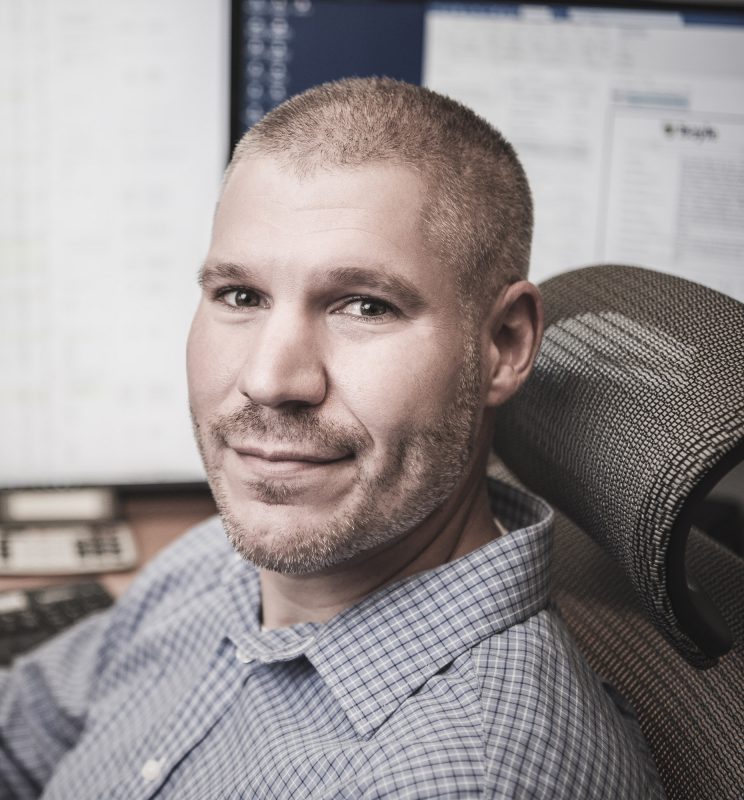 Ryan Nissen
Corporate Controller
Ryan's background and experience in commercial property management and the construction industry have been very beneficial in understanding processes as a Corporate Controller at Boyle. From the first day he was able to streamline the system to help the entire team and enable accounting to be as efficient as possible. He is responsible for all accounting and handles all office procedures and technology operations. He accomplished a double major at Lock Haven University, studying Accounting and Business Administration and also managed to intern as a Certified Volunteer Income Tax Assistance (VITA) and Tax Counseling for the Elderly (TCE). He is a Pennsylvania Notary Public. Ryan is building better one spreadsheet at a time.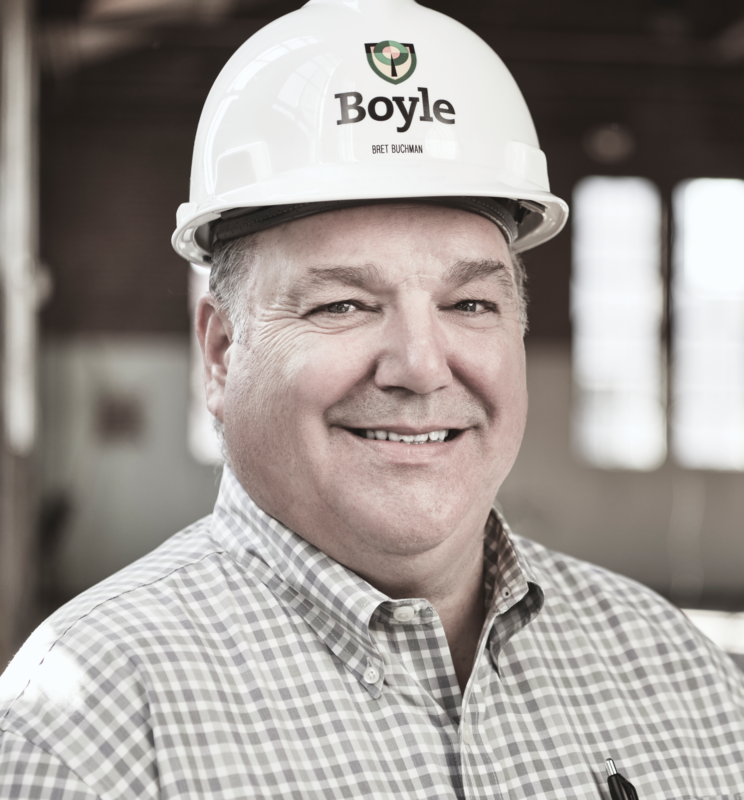 Bret Buchman
Director of Healthcare
Bret has been walking the hallways of area hospitals for over 30 years. From an early background in the trades, Bret understands all aspects of healthcare facilities from the ground up. He dives into the details required to successfully execute a renovation or new construction from the unique perspective of enhancing the patient's experience. Bret is always one to challenge the design and logistics to ensure a safe environment in a cost effective, timely manner. For almost two decades he led projects for St. Luke's University Health Network, a non-profit network of 12 hospitals and over 300 outpatient sites. At Boyle, he leads our healthcare team to ensure all standards and protocols are met with proactive planning and flawless execution. His generous nature and inquisitive demeanor make him an excellent team player on any project.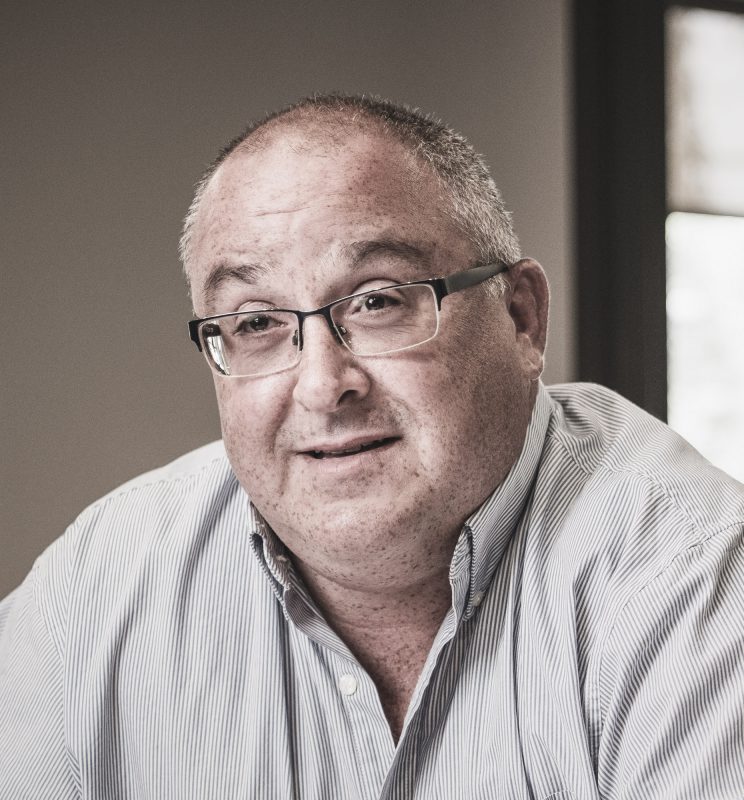 Brian Esteves
Chief Estimator
Brian is an expert at identifying factors that affect construction costs, such as production time, materials, and labor. Brian closely collaborates with project engineers, architects, clients, and contractors and has an innate ability to communicate with all team members to properly estimate project costs. Brian is adept at reading blueprints and technical specifications and collecting and analyzing construction cost data, which helps him accurately prepare cost estimates and bids for our clients. His background in numbers started with a degree in Accounting from York College. Brian has spent over 20 years in the construction industry, initially by framing houses during college summers, then estimating for a lumber yard and drywall contractor. He dives into the details of every project, asking the hard questions that allows Boyle to estimate costs with a high degree of accuracy.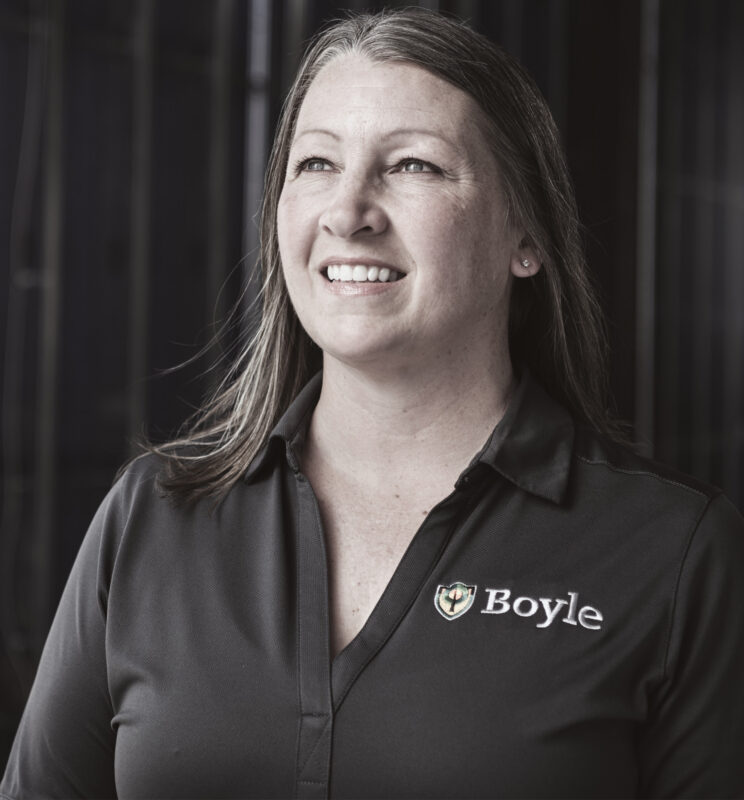 Laura Lueders
Director of People and Culture
Laura comes to our team with an extensive HR background in the auto industry. Familiar with onboarding, training and supporting staff that are inside and outside the office. She has implemented amazing ideas to engage our staff and maintain our family culture. Laura is the first point of contact for job seekers and always willing to lend a helping hand to Boyle staff.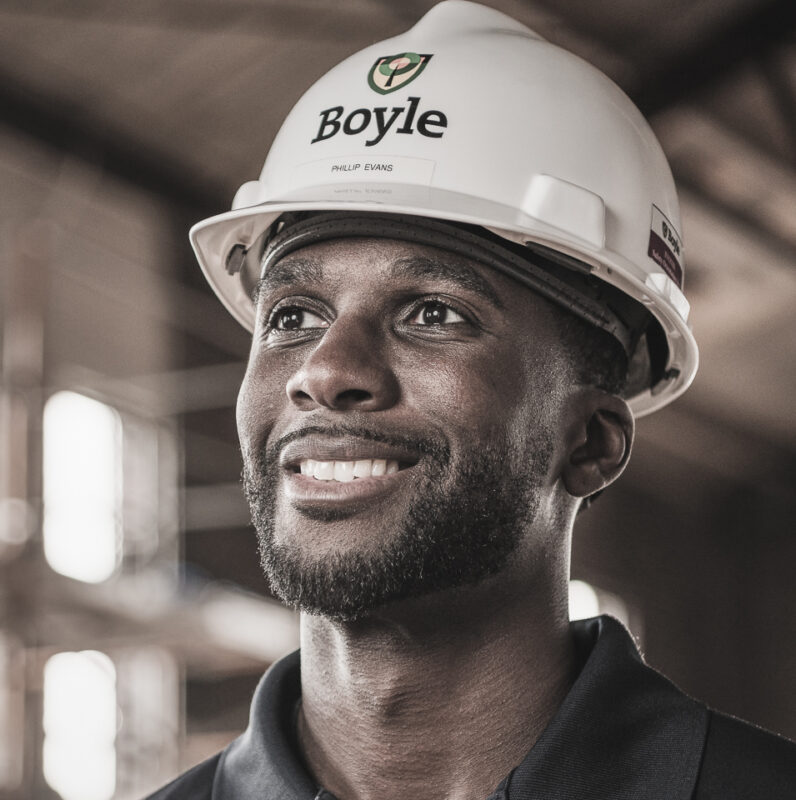 Phillip Evans
Director of Safety
Phillip Evans is our Safety Director after assisting our team as the Assistant Director for the past few years. His former training as a Health & Safety Systems Advisor in the oil rig industry provided amazing expertise for developing and enforcing safety measures. Phillip's professionalism and extensive safety knowledge quickly aligned him with Boyle's team goals. He leads the safety team, conducts onsite inspections and proactively trains staff on the latest OSHA standards. Phillip's integrity, leadership, and kindness have made him an invaluable member of the team, we all appreciate his hard work and guidance.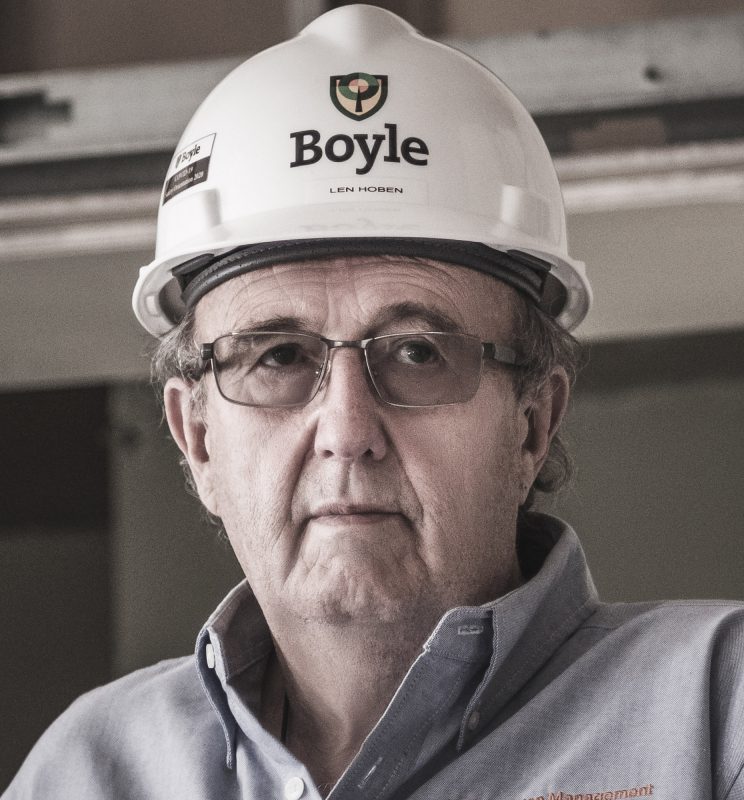 Len Hoben
Safety Advisor
We don't always have perfect timing, but when we do it feels good. Len joined the Boyle team 1 month before COVID-19 changed our world. We will be forever grateful for Len's guidance as a 25 year veteran in safety measures for guiding our entire team through new protocols. The past 12 years, Len has been a Compliance Officer enforcing OSHA standards for the Department of Labor and Industry. Through this experience he gained thorough knowledge of construction site safety. Prior to that experience Len worked for USPS as a Safety Officer responsible for employee training, inspections, and abatement of safety issues. Len inspects project sites with safety in mind, removes any worker and site hazards, and ensures that site personnel are properly trained in the equipment and machinery that they are operating. Len advises the team's compliance with newly enacted COVID-19 safety measures.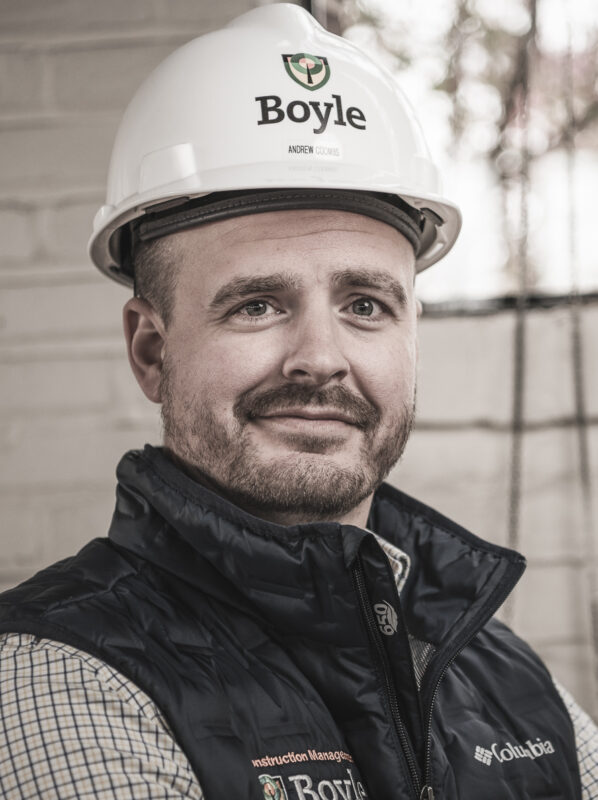 Andrew Coombs
Sr. Project Manager
Andrew has over 15 years of progressive project management experience for projects in PA and NJ. Andrew has adeptly handled multiple large complex projects, diving into details and ensuring smooth project execution. He brings his expertise, organization, and ease of communication to all project meetings.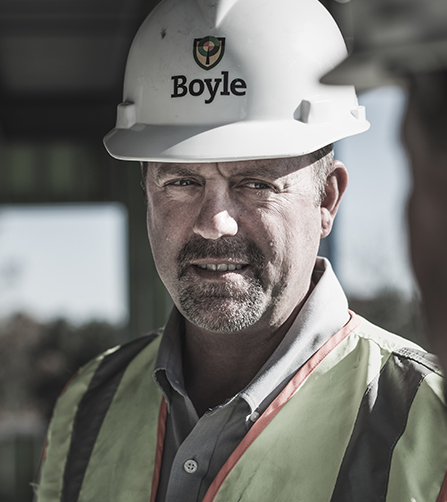 Christian Donovan
Sr. Project Manager
Before Christian came to us in 2013, he owned a general construction firm. For over 16 years, he was in charge of, well, everything. But his experience runs even deeper. Over the course of a long construction career, Christian managed a wide range of building projects: schools, banks, retail, office buildings, restaurants and apartments. At Boyle, he handles overall project management for our public construction management team — estimating, bidding, negotiating and bidding prime contractors, scheduling and conducting meetings through project closeout.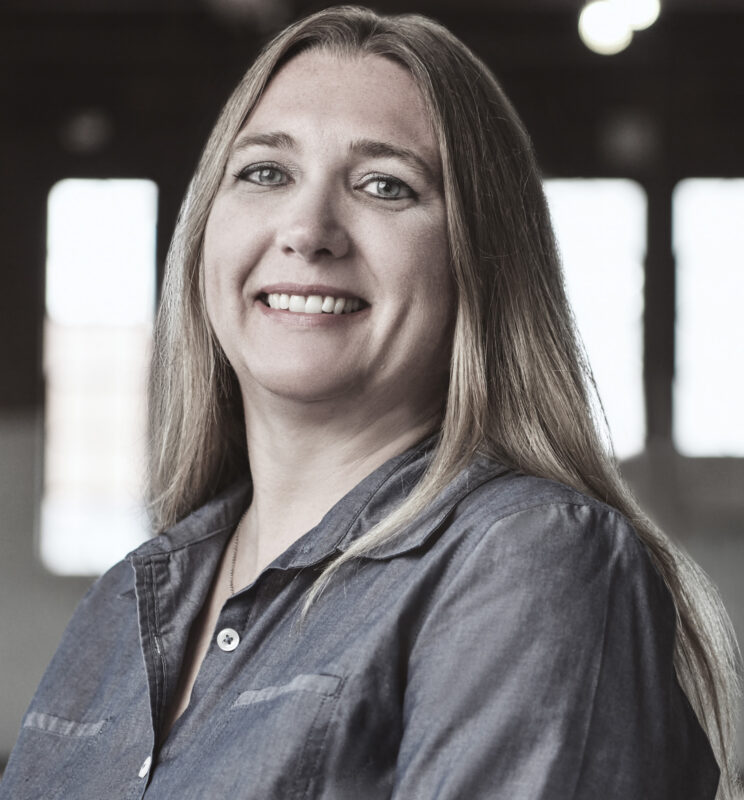 Erin Liston
Sr. Project Manager
Erin has over 15 years of progressive project leadership experience in higher education facilities planning and construction as well as 8 years of experience in high-end residential architectural design. As the former Director of Facilities for Lehigh University, she excels at working with all stakeholders to develop and execute the project goals from the first meeting thru construction. Her Bachelor's and Master's in Architecture allows her to offer creative solutions to challenging issues in constructability and value engineering, without sacrificing design or intent.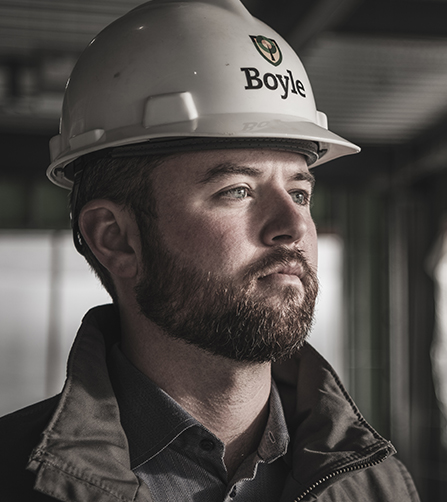 Dylan Panebianco, MBA
Sr. Project Manager
Talk about project management. Before coming to us, Dylan worked as an Office Engineer for a mammoth $1.4 billion rail line extension in Northern Virginia where he managed about 1.4 billion details. At Boyle, he's still all about the details. As a Project Manager, he's involved in all construction phases. He assists the team to keep everything moving on time and budget. He has a degree in civil engineering from University of Delaware and a Masters in Business from Notre Dame. When it comes to handling big, complex jobs, Dylan has one response: bring it on.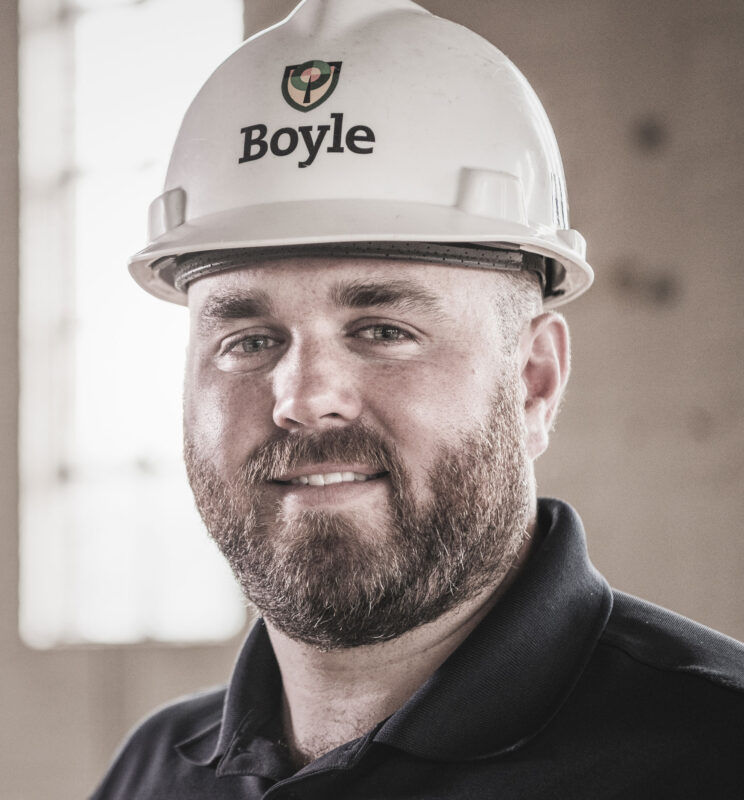 Joe Dugan
Project Manager
Joe Dugan has been overseeing multi-million dollar office furniture installations for the past 6 years in major East Coast markets. He has extensive knowledge of customer service, contracts, coordination, and overall project management. You can find Joe coordinating contractors from our office or onsite at our larger projects. He excels at communicating and ensuring all details are executed.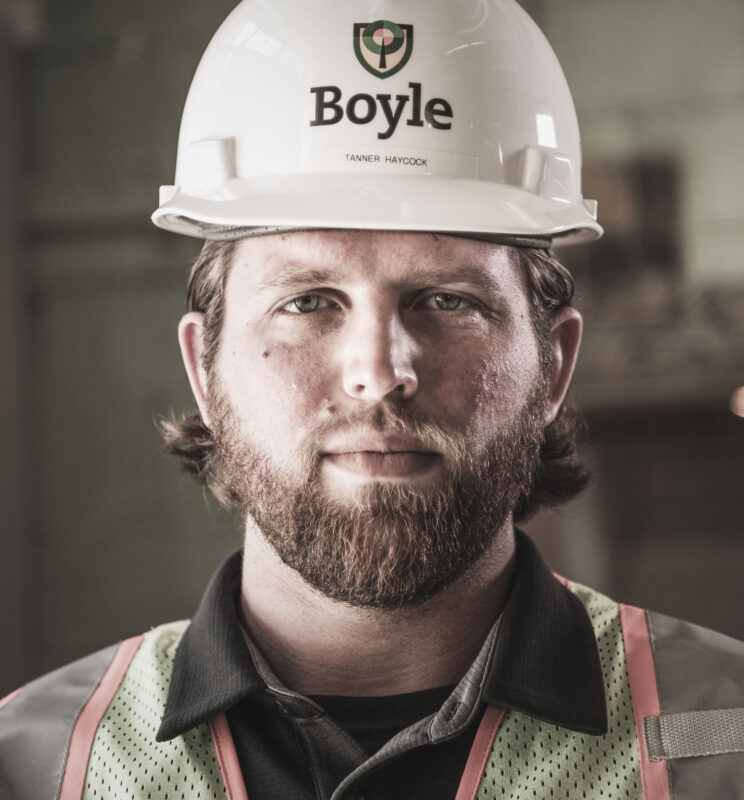 Tanner Haycock
Project Manager
Tanner joined us in 2021 and offers over 12 years of experience in managing a wide range of projects for Lehigh Valley contractors. Tanner utilizes his carpentry and mechanical background to effectively plan resources for each project. Tanner's expertise in operations and construction is very helpful on complex projects with many trade packages. He understands the schedule and estimating of each job and works hand in hand with subcontractors to execute successfully.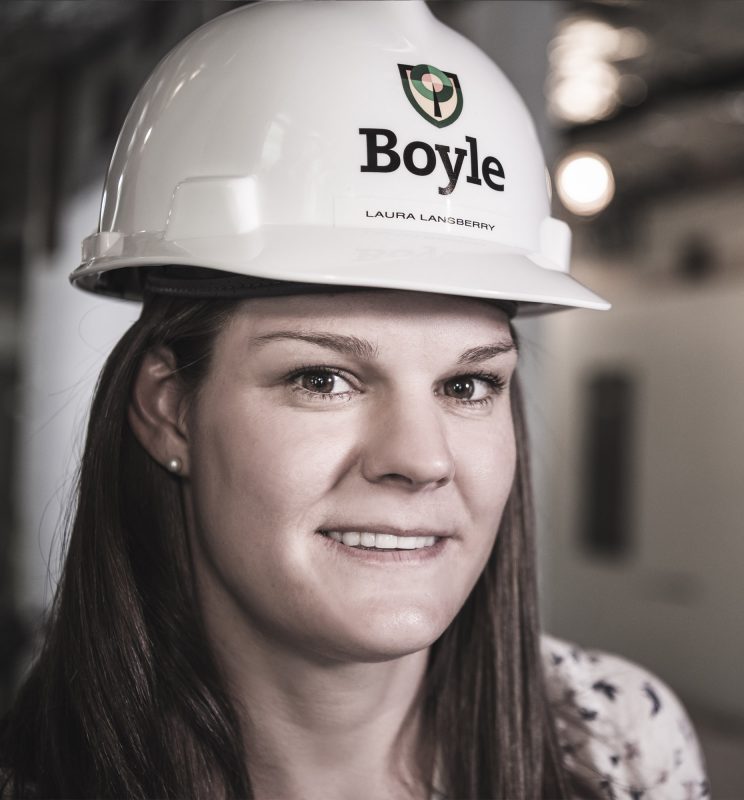 Laura Lansberry
Project Manager
Laura is an expert project manager with over 14 years of experience in the construction industry. Starting out as an estimator gives her an edge on creating realistic and complete budgets that ensure your project will remain on track. The past 8 years, Laura has specialized in healthcare, higher education, bio-tech, and non-profit projects along with commercial offices. Her exceptional communication keeps owners and the entire project team in sync throughout project execution. Laura has a Business Administration degree from Cedar Crest College and has an excellent understanding of the local construction market.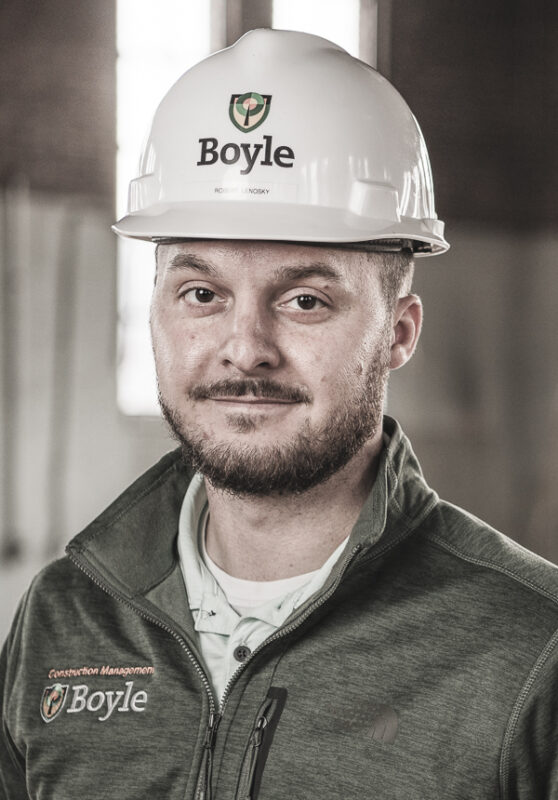 Rob Lenosky
Project Manager
Rob has gained experience in the construction industry through overseeing projects in the field and office. He manages meetings, subcontractors, schedules and site logistics with ease drawing from his Army training and engineering education. Rob has strong team leadership skills while ensuring the quality and safety standards are always exceeded on every job. He has a degree in Civil Engineering from Penn State University.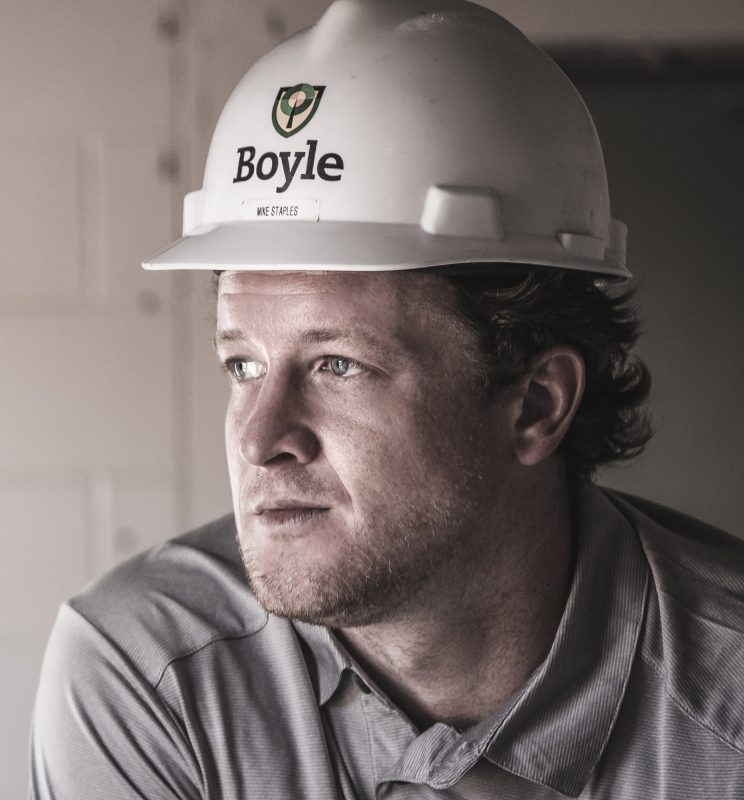 Mike Staples
Project Manager
Mike comes to us with a diverse background in scheduling, operations and estimating for a variety of industries. With his BS in Construction Management, Mike easily applies his experience with his training to successfully implement any project. You will typically find Mike in the field documenting and organizing construction documents allowing our field Superintendents to concentrate on the site logistics. Mike also assists the Project Manager by problem recognition and resolution on the jobsite working hand in hand with vendors and subcontractors. Mike helps keep everyone on the same page, his quick wit will also ensure you leave with a smile.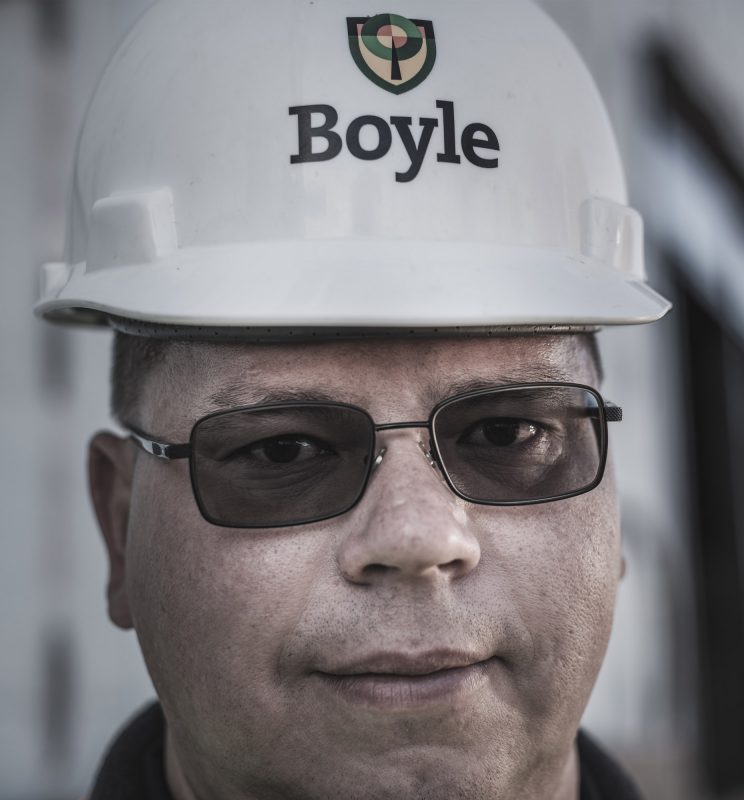 Mike Tyburski
Project Manager
Mike has spent the last 20 years in the Bucks County area with general construction firms. Working his way from project manager to senior estimator and his last role as president for 8 years, Mike honed his estimating and management skills. Mike's experience is diverse in managing all aspects of the project for institutional, retail, healthcare and commercial clients up to $25 million. With a degree in Civil Engineering from Worcester Polytechnic Institute, his specialty is on-site contractor management ensuring all teams are working simultaneously to execute a successful project. Mike's problem solving skills in the field have made him a valuable addition to the team.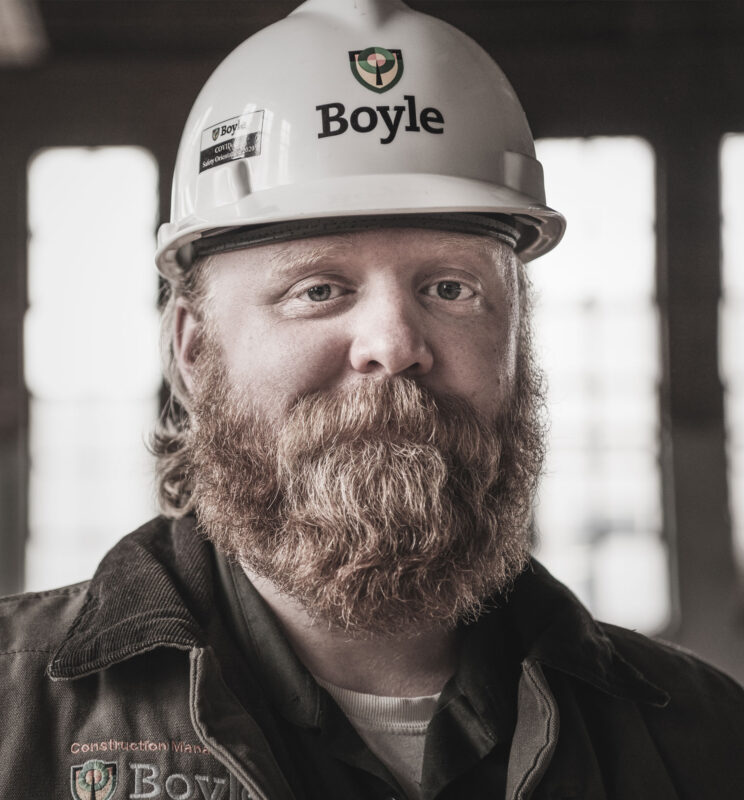 Alex Porter
BIM Manager
Alex joined the Boyle team to direct our BIM Services and assist onsite for our larger, more complicated projects. Alex spent his first 6 years working for an international construction manager leading all BIM coordination for the projects, reviewing the material routes and resolving any conflicts with clash detection. Armed with Navisworks, Alex leads the Boyle team as the BIM Specialist. His Architecture and Geographic background are the perfect training for this role.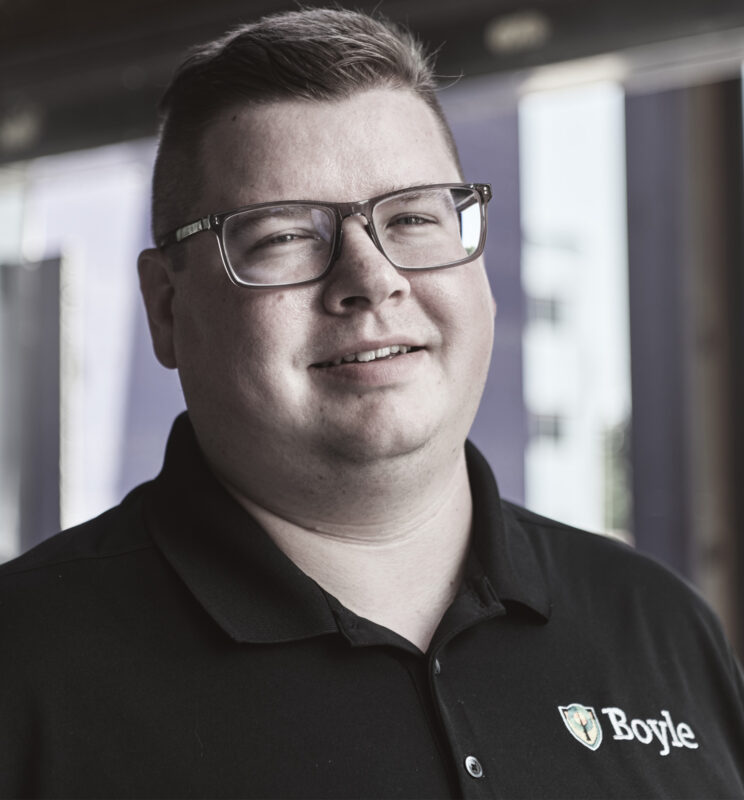 Chad Wasilkowski
Junior Project Manager
Chad is a Junior Project Manager that started in May with Boyle Construction. He has over eight years experience in architecture having been involved with numerous types of projects starting from the design phases to running the projects as a project manager.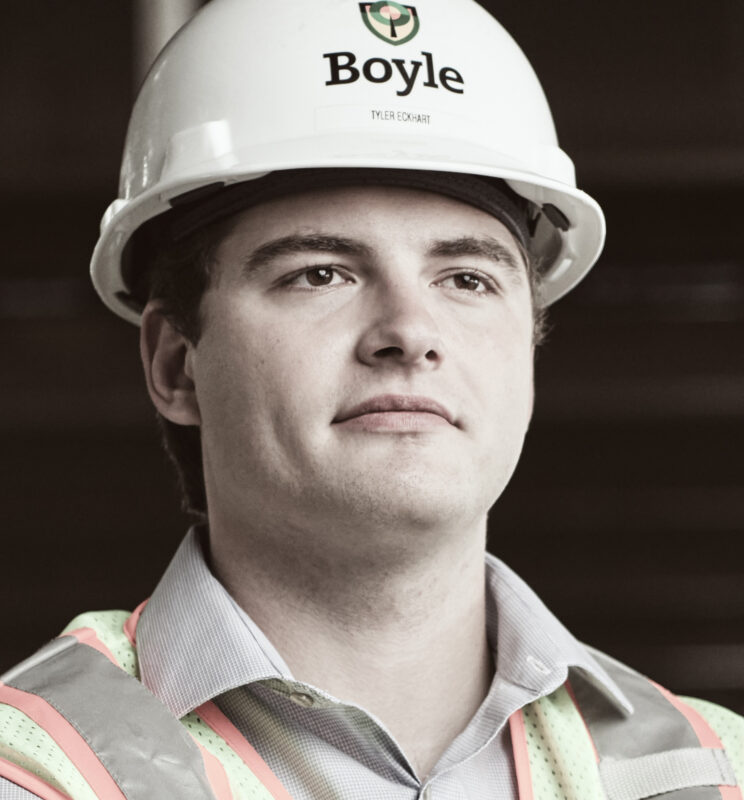 Tyler Eckhart
Project Engineer
Tyler Eckhart has gained great experience in his previous roles of site Superintendent and Project Engineer handling day-to-day operations of phased renovations. He has experience in site contracting from estimating to project execution. He is detailed, enthusiastic, energetic, eager to learn and is a stickler for details and accuracy. Tyle is onsite ensuring safety and quality for all subcontractors.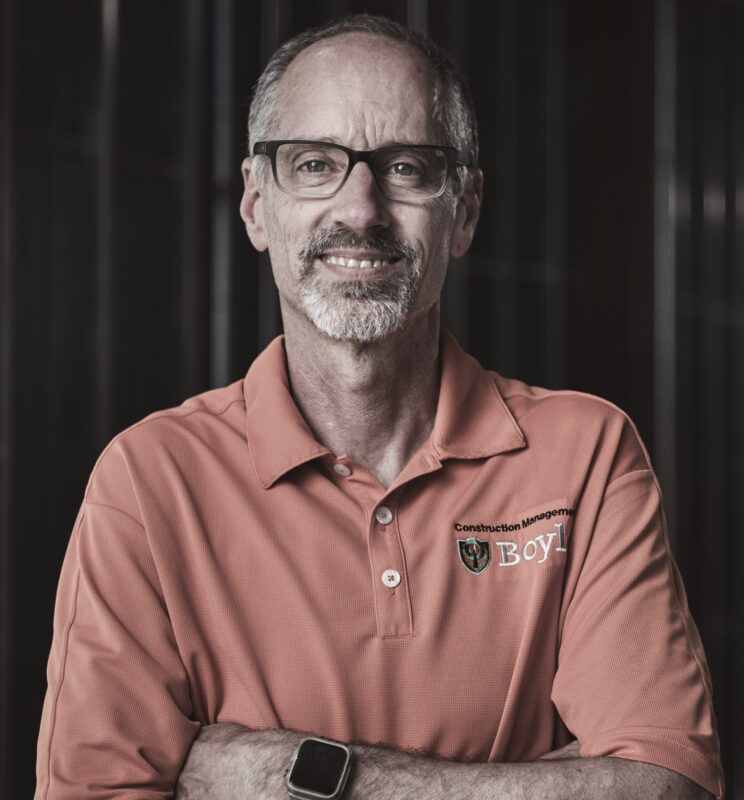 Chris Rex
Project Engineer
Chris joined Boyle Construction in 2023. As a project engineer, Chris works with the Senior Superintendent on site for larger, more complicated projects. He will assist the Project Manager in managing project scopes, budgets and schedules. Chris has experience working in the construction industry working as a service manager where he did warranty repair work for new home construction, oversaw work of subcontractors and dealt with local and state inspectors to review compliance for codes regarding fire safety.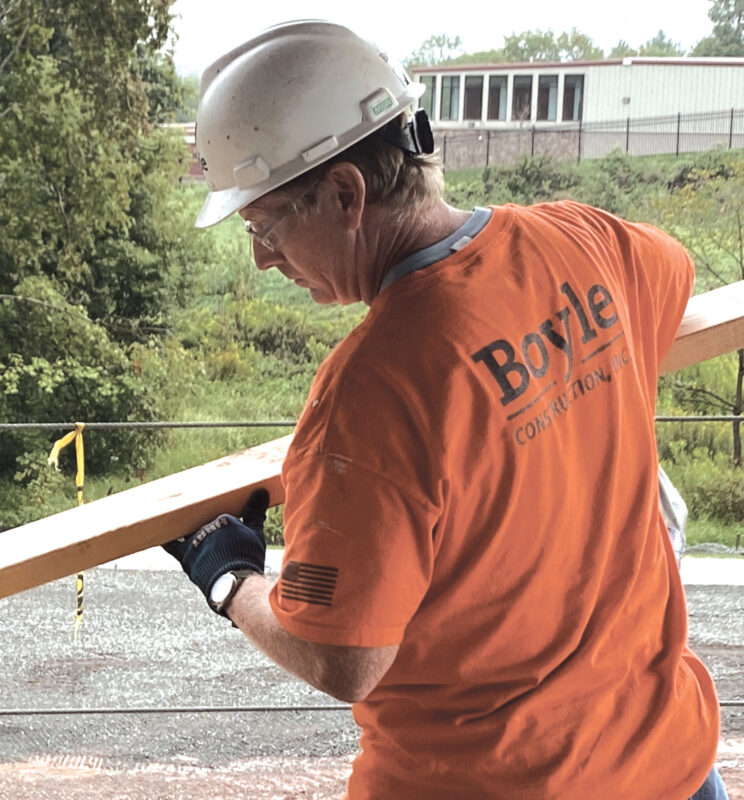 Joe Pinto
Project Engineer
Joe has been with Boyle for two years. He recently got promoted to project engineer where he works with the superintendent on site and assists the project manager in managing project scopes, budgets and schedules. Joe has plenty of experience as a carpenter and general contractor supervising construction teams.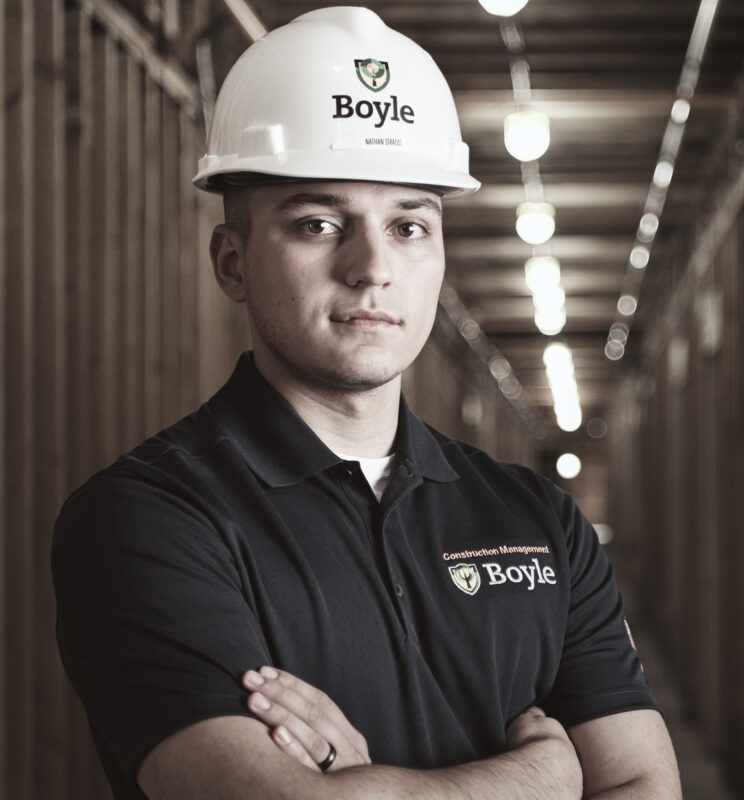 Nathan Strauss
Project Engineer
Nathan joined the Boyle team in 2022 with six years of military service, including two years of management. As Project Engineer, Nathan works with the Senior Superintendent on site for larger, more complicated projects. He will assist the Project Manager in managing project scopes, budgets and schedules. Nathan also has experience as the Lead Construction Manager for the Travis Air Force Base in Fairfield, CA. While there, he oversaw five construction managers with a team portfolio of 54 simultaneous projects worth over $306 million.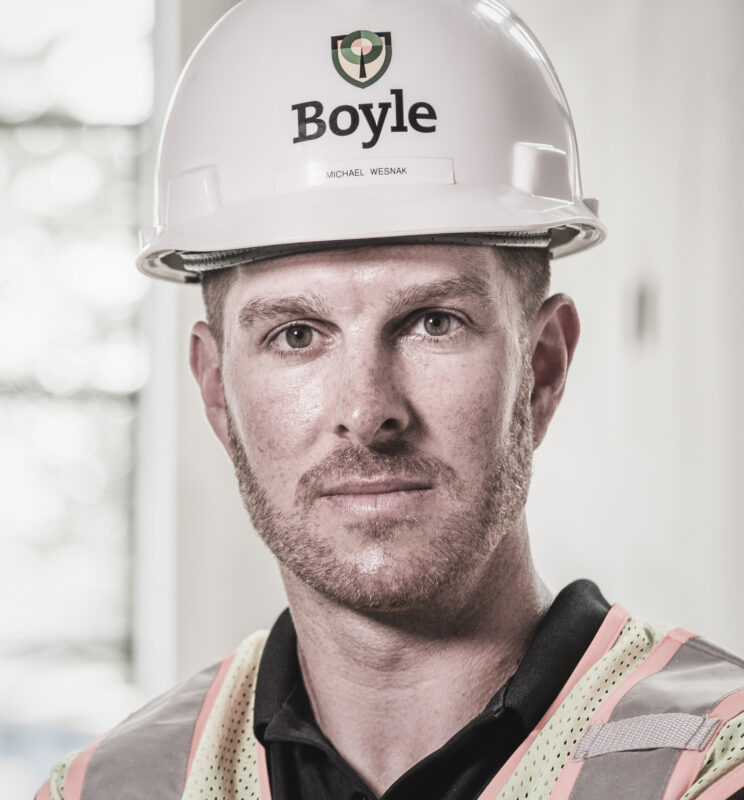 Michael Wesnak
Project Engineer
Michael has extensive experience in all aspects of project management. He understands the importance of customer service, having owned his own property rehabilitation and landscaping businesses. Michael has also worked as an apprentice electrician so his technical knowledge is extensive. At Boyle, he manages jobs ensuring subcontractors complete their tasks on time to the highest quality.
Join the most talented team in construction.
We're always on the look out for exceptional individuals to help elevate Boyle Construction. Is it you?
Careers