Boyle Construction, Inc. celebrated its 40th anniversary with a party for clients, staff, and friends at Bethlehem's SteelStacks. Over 700 people attended the celebration, enjoying food, beverages, and entertainment, and three generations of Boyles took the stage to commemorate Boyle's continued growth and success over the past 40 years.
Founded on October 17, 1977, Anthony (Tony) Boyle and George Moore incorporated Boyle & Moore, Inc. as a general construction firm, with a belief that clients deserve service first and foremost. With the growth of design-build and construction management in the 1980s, the firm grew as did its services. By 1985, Tony became the sole owner, and Boyle Associates was created and continued to flourish over the next decade, as Tony would say, "Better Built By Boyle." In 1996, Tony's son, Sean, was named president, taking over the family business. In 2001, Boyle created a new corporate identity with a new logo and, more fittingly, became Boyle Construction, Inc.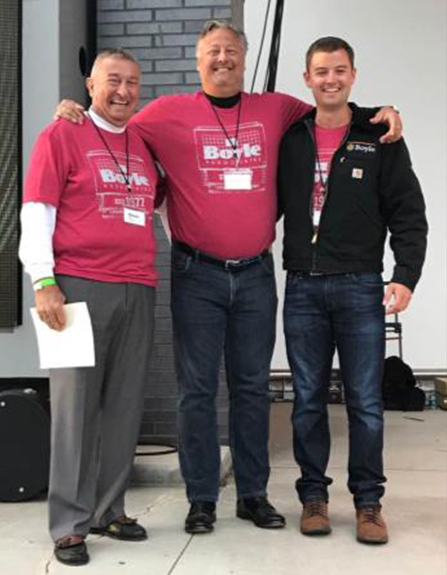 Sean Boyle continues to run the company and, in 2016, welcomed his son, Dylan Panebianco, as the third generation into the Boyle family-run business.
For 40 years strong now, and growing, Tony's original "clients deserve service first and foremost" still permeates the entire Boyle organization. With integrated state-of-the-art technology and skilled and personable staff, Boyle provides personal attention to client-specific project requirements.
"I am amazed and thankful for the wonderful team that surrounds me every day," commented Sean Boyle, Boyle Construction president. "Our staff works hard to service our clients, and it was great to be able to celebrate and commemorate this milestone."